Japan Zone
The Japan Zone will powerfully reveal the role of Japan in contributing to the global age and at the same time transmit in a comprehensive manner the appeal of Japanese culture.
Japan Zone ( Nagakute Area )


Government of Japan (Ministry of Economy, Trade and Industry)
This pavilion will welcome visitors on a journey toward the affluence of the future. Awaiting them is a first-of-its-kind video experience that will allow them to see the Earth from the inside.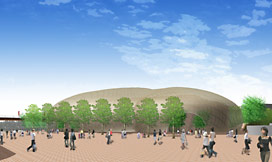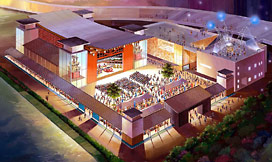 Aichi Prefecture
The exterior expresses the motif of a parade float, and visitors to the pavilion will have fun while seeing the power of Aichi craftsmanship in the environmental age.
(The building on the left of the illustration)
C. Chubu Community for Millennial Symbiosis
Chubu Region Exhibiting Committee
Goods that will last for 1,000 years!
The wisdom and techniques of the Central Japan region will be brought together for the benefit of children who will live 1,000 years in the future.
(The building on the right of the illustration)

Nagoya City
Through light playing in a kaleidoscope, wind chimes, and an aqua-wall, visitors will be refreshed by the carefree passage of time.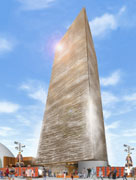 National Government / Aichi Prefecture Exhibition in Seto Area