Official mascots / Official music
Official mascots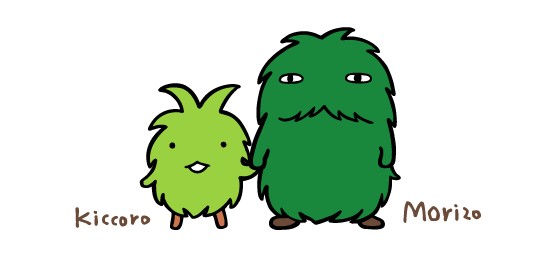 "Kiccoro ( Forest Child )"
The Forest Child has only just been born. Jumping around everywhere, he's (she's) full of energy! The Forest Child wants to see and do everything! He's (she's) looking forward to making lots of friends at the Expo.
"Morizo ( Forest Grand Father )"
The Forest Grandfather has been living in the forest since long ago. He's an easy-going and kind old man, he has seen many things and knows everything, but he hasn't lost his curiosity. Hearing about the Expo, he's enthusiastic about lending a hand.
Official music
The Japan Association for the 2005 World Exposition announced the official theme song for EXPO 2005 Aichi, Japan " I'LL BE YOUR LOVE " written and composed by songwriter & producer YOSHIKI, sung by the female vocalist DAHLIA.
YOSHIKI described the song as a"ballad based on the theme of nature and love, combined with the global image of world exposition and advances in science and technology." DAHLIA, aged 19, is from Hawaii and is a bilingual girl with a Japanese father and an American mother.