Tchèque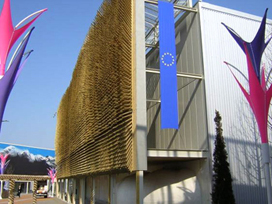 Nom officiel
République Tchèque
Journée Nationale
06.24.2005 (Fri)
Site des participants officiels (WEB)
Theme / Exhibition
The Czech Pavilion's theme is "The Art of Life." Thus, it focuses on art in the belief that art can bring countries and different cultures closer together because in modern society, art is the universal language that transcends spoken languages to express emotions.
Under the banner of "The Garden of Fantasy and Music," the Czech Pavilion brings music and visuals into full play, enabling visitors to see, hear, touch and feel the exhibits, such as a water piano, "voices" of metal, wood and stone, and a light trumpet. Visitors will be introduced to Czech culture and society through the exhibits and events that appeal to their senses and hearts.
The pavilion has an exhibition area with a semicircular arrangement of tiered seats for spectators.


Food / Drink
The restaurant space enables visitors to enjoy typical Czech cuisine over mugs of genuine Czech beer.

Goods
Various Czech products commemorating the Czech participation in EXPO 2005 are on sale, including high-class glasswork and Bohemian glass, which have traditionally enjoyed tremendous popularity among Japanese people.