Suisse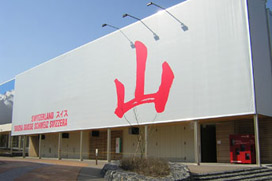 Nom officiel
Confédération Suisse
Journée Nationale
04.15.2005 (Fri)
Site des participants officiels (WEB)
Theme / Exhibition
The theme of the Swiss Pavilion is "The Mountain" that represents the country's coexistence with nature. The idea is to have visitors experience the energy, strength, tranquility and soothing effect of mountains which not only constitute Switzerland's geographical features, but also symbolize its culture.
A huge, computer-generated and printed membrane covering a frame in the shape of a high mountain range is stretched to reproduce a natural mountain range inside the pavilion. The interior of the mountains features five large, transparent bubbles that represent thematic sections. Visitors to be admitted to these sections in groups of 15 are provided with talking machines - a remodeled version of the Swiss Army's flashlight. When light is turned on an exhibit, the flashlight gives information by voice in Japanese or English. Walking through dimly lit exhibition areas with a flashlight in hand, visitors will feel as if exploring an unknown world.
The bubble sections are entitled "Swiss Myths," "Visions," "Risks and Caution," "Top of Science" and "Monte Rosa." The "Swiss Myths" section features a surrealistic mural by Swiss artist Hans Erni, who was active in the early 20th century, and a stuffed dog - a Saint Bernard named Barry, which is noted for rescue work in the Alps.
The "Visions" section introduces Swiss adventurers who won nature's favor, such as balloonist Bertrand Piccard who, with Brian Jones of Britain, flew non-stop around the world in the first balloon ever to circle the world, astronaut Claude Nicollier (born in Vevey, Switzerland) and Alinghi Syndicate head Ernesto Bertarelli, who won the America's Cup yacht race. The "Risks and Caution" section depicts great disasters that actually occurred in Switzerland as a reminder of the need to provide against disasters. The "Top of Science" section presents the state-of-the-art achievements of Swiss science, including research on artificial intelligence, the world's first Web browser and computer models of Bamiyan Buddhist statues in Afghanistan, which have now disappeared. The last "Monte Rosa" section features a project for the reconstruction of the famous Monte Rosa mountain villa.



Food / Drink
Upon finishing the tour of exploration, visitors enter a terrace with a fine view of the virtual mountain scenery. Then, a restaurant with a bar welcomes them. This restaurant of an open-kitchen type serves four types of representative dishes in the Italian, French, German and Rhaeto-Romanic-speaking region as well as Swiss wines and beers.