Italie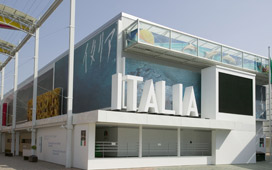 Nom officiel
République d'Italie
Journée Nationale
04.28.2005 (Thu)
Site des participants officiels (WEB)
Theme / Exhibition
The Italian pavilion's theme is the "Italian Lifestyle." Beauty, art, culture and other Italian lifestyles are introduced under the unified theme of the "Mediterranean Sea." The pavilion is made up of three halls. In the first hall, "Italy full of living pleasure and life force" will be introduced.
Elements used in the hall are sunlight-like warm light, a mirror-like large surface of water, stained glass used on walls and other poetic things. After crossing a bridge over the surface of water, visitors can see various exhibited items, such as objects appearing from the water's surface and objects hanging in the air.
In the central hall, visitors can meet an ancient Greek bronze statue. The statue, about 2.5 meters tall and weighing 108 kilograms, is a forest sprite appearing in Greek and Roman myths and a follower of Bacchus. It was raised from the water by a fishing boat from the sea off Sicily Island in 1998.
The bronze statue, displayed in a sphere 9 meters in diameter, was made more than 2,000 years ago . This might be the first and the last time for it to be carried out overseas. In the third hall, Italian culture and traditions are introduced, and a modern Italian house is reproduced.






Goods
There is a historical cafe on the second floor to be used for rest. There is also a restaurant where visitors can enjoy genuine Italian and Mediterranean dishes. Real top-class chefs show their cooking ability, and do not betray visitors' expectations for real Italian tastes.