Roumanie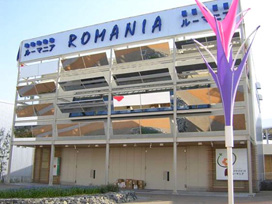 Journée Nationale
06.01.2005 (Wed)
Site des participants officiels (WEB)
Theme / Exhibition
The theme of the exhibition is "Legacy to the Future." The concept of interior design is based on the idea of combining exhibition space with space for artistic performance. Elements of traditional Japanese theater Noh, lateral ramps and platforms, are combined with an amphitheater, as a suggestion of a natural hill. The Romanian pavilion is meant to offer the visitor a calm, relaxing and refreshing sight after a long day.
The pavilion presents an integrated all-day-long show, introducing video presentations on a 12-meter-wide screen of nature, traditions, history and environment-friendly technologies, as well as live artistic performances and live demonstrations of traditional craftsmanship.
A wooden water mill, 6 meters in diameter, is located on the right side of the pavilion in a pool. When visitors pass through the turnstiles, via traditional wooden mechanisms, the movement is transmitted to the wheel and circulates the water in the pool, creating a small waterfall. It is intended as a re-creation of the sensations a visitor has on entering a riverside Romanian village. Folkloric costumes circle the pavilion wall in a slow movement similar to the traditional Romanian dance "hora," conveying the same impression.



Food / Drink
The pavilion restaurant serves traditional Romanian food, a gastronomical tradition born with the confluence of local cooking with Oriental, Balkan, Russian and Hungarian influences. The menu features Romanian soups "ciorba" and main dishes such as "sarmale" (minced meat rolls in cabbage or vine leaves) and "mititei" (highly seasoned small grilled meatballs).

Goods
A small shop is located within the restaurant. Available items: traditional handicrafts, music and video CDs and DVDs, and albums and books featuring remarkable Romanian figures and works as well as environment-protected areas.