Bulgarie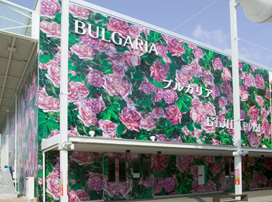 Nom officiel
République de Bulgarie
Journée Nationale
05.13.2005 (Fri)
Site des participants officiels (WEB)
Theme / Exhibition
The national land of Bulgaria is rich in beautiful scenery and heritage of Greek, Roman, Ottoman Turkish and other cultures. The theme of the Bulgaria Pavilion in this exposition is "Nature's Wisdom and Gifts from Nature - Essentials for Human Health, Lifestyle and Tolerant Coexistence."
The pavilion focuses on showing the specific Bulgarian viewpoint on the important balance of humankind and nature, and introduces the traditional and modern approach of Bulgarians for production of typically Bulgarian natural and organic products.
The pavilion's exhibits include samples of Bulgarian herbs, rose oil, wine, yoghurt, honey and mineral water. Bulgaria is the world's prominent herb producer, and more than 1,000 kinds of herbs are used to promote health. The "Valley of Roses" in the south of the Balkan Range is famous as the place to cultivate the flower for rose oil. In addition, Bulgarian folk music, movies and others are presented at the pavilion.


Food / Drink
The restaurant serves delicacies from Bulgaria - the traditional and modern cuisine. The menu includes Bulgarian beverages (wine, spirits, mineral water, ayran - soft drink-based traditional yoghurt), soft drinks, salads (seven kinds, including shopska, shepherd's salad, yoghurt salad and bean salad), soup (five kinds - chicken soup, dry bean soup, tarator - cold soup of yoghurt and cucumber - and others), dishes (12 kinds such as grilled chicken, potato fries, grilled peppers and eggs) and dairy products (Bulgarian yoghurt, white cheese, yellow cheese, ice cream, etc.).
Goods
The shop sells arts and crafts (embroidery, pottery, folk dolls, wood-carvings and other special Bulgarian products), cosmetics (essential oil, liquid extracts, natural essential water and other aromatherapy products), interior decorations (icons, engravings, small statuettes, paintings and others), accessories (handmade jewelry and others) and clothing (blouses and T-shirts).