France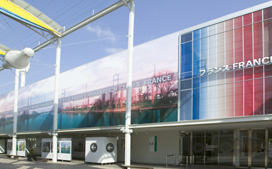 Nom officiel
République francaise
Journée Nationale
04.14.2005 (Thu)
Site des participants officiels (WEB)
Communiqué de presse
Theme / Exhibition
France interprets in its own way the EXPO 2005 theme "Nature's Wisdom," and questions visitors about "sustainable development." Designs at the pavilion are free and open, offering an atmosphere to warmly wrap visitors with calm light and warm colors. No final answers are prepared for exhibited items at the pavilion. There is no fixed tour route. Visitors can freely observe them from various points of view. At the Cube Theater, a cinema in the shape of an 18-meter cube, there is a 15-minute video presentation each time, inviting visitors to a tour of the damaged planet, the Earth. With an eye never turning away from the planet's negative things, such as labor, environmental pollution and industrial pollution and based on testimony from people who are finding it difficult to live, the pavilion questions the Earth's true future. At the forum "This concerns you," scenarios are introduced in line with 12 themes - crisis, growth, development, law, energy, medicine, the planet, garbage, precautions, daily life, tourists and our work. A short film, consisting of simple images and telling critical words extracted from films and quotations hits the heart of visitors. In addition to exhibitions proposing the two questions, there are six areas, called "islands." There, sustainable development plans proposed by local authorities, businesses and NGOs are introduced. The plans are Angers city's "sustainable development," Chalon-sur-Saone's "loyalty programs for the reduction in greenhouse gases," the Dunkirk Urban Community's "sustainable industrial development," Dassault Systems' "sustainable innovation," Louis Vuitton's "sustainable creation" and Toyota's "green, clean, lean, factory 21" from its factory in Valencienne. For each of them, an artist or a group of artists expresses their vision on the concrete implementation of sustainable development. The French Pavilion offers questions and clear and biting messages to visitors. That is a task everybody on the Earth should actually feel.




Food / Drink
France shares its large pavilion with Germany for the first time. There is a common exhibition area, and between the two pavilions, the three-story jointly owned common space "Common House" has been created so that visitors to both pavilions can come and go. There is a restaurant opened by Guy Martin, the chef at Le Grand Vefour which won three stars in the Michelin Guide in 2000.

Goods
Boutiques open at the Common House where there are many brand-name goods from France.