Belgique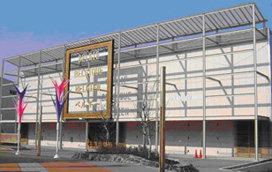 Nom officiel
Royaume de Belgique
Journée Nationale
06.14.2005 (Tue)
Site des participants officiels (WEB)
Theme / Exhibition
The Belgium Pavilion tells the story of the look that Belgian artists, from Van Eyck to contemporary designers, cast on the nature around them. The way in which they integrate this nature into their work has not only given rise to works of art that are admired down to this day, but has also influenced the society in which they lived at the time.
The exhibits combine artistic imagination with cutting-edge technology. A case in point is the space devoted to the "Regions and the Communities" where the most sophisticated devices provide a projection of the image of Belgium. A playground is also set aside for children.




Food / Drink
A cafe-restaurant in the pavilion serves a vast range of Belgian beers, which are very popular in Japan. Although the cafe-restaurant also has a direct entrance from the street, it is nonetheless an important integral part of the pavilion. The closing show of the Belgian exhibition, a projection of how the country's contemporary artists see nature, will also be visible from the cafe-restaurant.
In addition to beer, the entire range of Belgian gastronomy is available. Also to be offered are Belgian and other European regional dishes and various desserts, including fresh-baked waffles and speculoos (ginger biscuits).

Goods
A large variety of Belgian specialties are on sale at a shop at the entrance of the Belgium Pavilion, including famous brand-name chocolates such as Godiva, Neuhaus and Leonidas, coffee, biscuits and sweets as well as genuine waffles, lace, glasses and knapsacks.