Autriche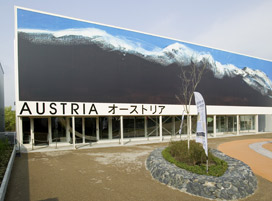 Nom officiel
République d'Autriche
Journée Nationale
04.27.2005 (Wed)
Site des participants officiels (WEB)
Theme / Exhibition
The Austrian Pavilion. A Sculpture of the Senses
Austria will showcase itself in Japan with a 650m² Exhibition Pavilion, its sub theme being "The Art of Living".

Three concrete aspects of life and areas of excellence will be presented, where Austria is amongst the best in the world:

Music as an art form of life, ranging from the music of Mozart, the rustling of the forests to the sound of high-tech motors. Wood as a natural working medium, which is associated in Austria with extraordinary architectural and engineering feats. The art of Healthy Living as a sign for Austria's high quality of life in world wide comparison,

These three themes provide the framework for the contextual concept of and can be clearly recognized in the creation of the EXPO Pavilion. The specified contents are transformed in an innovative way and a forward looking and goal setting entry will represent the Republic of Austria.

The first impressions in the Austrian Pavilion can be gained through the Pavilion Tour.




Food / Drink
A café restraurant in the pavilion "CAFÉ WIIEN" serves a vast range of Austrian cuisine, including the most popular dessert "Sacherorte" with coffee.

Menu

・ Gulasch: Hunarian-taste beef stew with paprika

・ Tafelspitz: poached beef, spiced with lemon peel

We provide more menu and beer and wines, too.
Goods
The product palette ranges from exquisite designer jewelry and art handicrafts to choice culinary specialties of the highest quality, "Made in Austria".

AUGARTEN earthware, wine glasses, accessory produced by LOBMEYR, Austrian best manufacturer of lighting and glasses.

・lovely crystal ornament produced by SWAROVSKI

・Wine glasses produced by REDEL

・rare purse, porch produced by BACH HAUSEN and so on.

・beers, chocolates, sparkling water, and we have special ice-wine.

--- We specially recommend strawberry and cassis wine, you can have wine tasting.