Grèce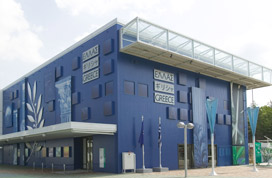 Nom officiel
République Hellénique
Journée Nationale
05.20.2005 (Fri)
Site des participants officiels (WEB)
Theme / Exhibition
The theme of the Greek Pavilion is man and nature. In the pavilion, four zones are created, each symbolizing traditional cosmic factors - soil, wind, water and fire. In viewing each zone and getting in touch with the Greek nature and culture, you can enjoyably experience how this country has been harmonizing with nature since ancient times.
In each of the four "spaces," there are theater-like stage effects with ornaments and sculptural factors, enabling visitors to experience an overwhelming atmosphere, and symbolic, poetic and human values that the natural environment of Greece brought to its ancient people. At the main exhibition area, the olive, a symbol of the life of Greeks for thousands of years, is introduced by graphics, words, exhibited items and effective visual images, thus showing the true value of the olive, nature's largest alm, and a symbol of the rich land.
Winds that have sent Greek sailors to the entire world are contained in a grand shrine to make visitors feel a thrilling sentiment, with winds reproduced.
In the space surrounded by water walls, visitors will remember how important and indispensable water has been in the daily life of Greece and its history, and see the scenes of beautiful white beaches in Greece.