Singapur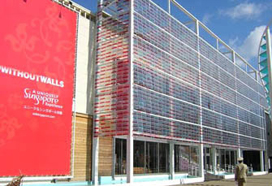 Nombre oficial
República de Singapur
Día nacional
08.09.2005 (Tue)
Sitio de los países participantes oficiales (WEB)
Nota de prensa
Theme / Exhibition
The Singaporean pavilion showcases "Blendings of City Environment and Garden City, Harmony of the Past and the Present, and Work and Leisure, and Interfusion of a Variety of Cultures." The pavilion houses a number of exhibition zones so that visitors can fully enjoy attractive features of Singapore.
The rainy "Nature of City" area on the grass provides visitors with an opportunity to see the great strides Singapore has made in afforestation despite the country being a city-state.
Visitors also can see the scenes of rehearsal by play actors and actresses and their maquillage and warm-up in the "Taste of Culture" area. Moreover, modern street art works are on display.
The "Memory Coming Down to Future Generations" area is a library where visitors can read books of reminiscences based on firsthand experiences of Singapore people.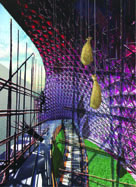 Food / Drink
The "World Café" offers visitors opportunities to feel as if they try out the food at various restaurants in Singapore. Visitors can "tapau" (take out) a variety of traditional foods cooked on the spot in a Singaporean way of life.
Goods
A wide array of unique Singapore goods are available in the pavilion.