Pakistán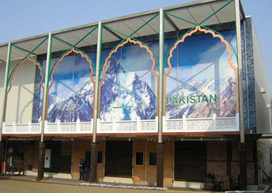 Nombre oficial
República Islámica de Pakistán
Día nacional
08.11.2005 (Thu)
Sitio de los países participantes oficiales (WEB)
Nota de prensa
Theme / Exhibition
The pavilion has been conceived and developed by Pakistan's well-known artist sculptor Jamal Shah. It is lavishly decorated with sculptures, reliefs, frescos and various designs with a three-dimensional backdrop of the world's highest mountain peaks.
Based on the theme "Art of Life," the 3D displays introduce the splendor of Pakistan's mountain ranges and glaciers, and the rivers which emanate from them.
To visitors taking in the mysterious atmosphere created by this pavilion will surely come away with a deeper understanding of history, living heritage and ingrained traditional values.



Food / Drink
A restaurant featuring Pakistani dishes is located under the mountain peaks at the back of the pavilion, which reaches a height of 25 feet.
Goods
Unique souvenirs are on sale.