Nepal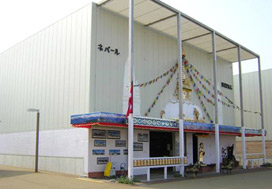 Nombre oficial
Reino de Nepal
Día nacional
07.07.2005 (Thu)
Sitio de los países participantes oficiales (WEB)
Theme / Exhibition
The focal point of the pavilion is the Mandala, which symbolically represents the Cosmos. The Mandala has been used in Nepal since time immemorial as the basis and tool for planning and designing temples, palaces and simple residences, as well as entire cities.
The step-well with stone tap or stone spout at the pavilion entry point highlights the traditional water supply system in Nepal, from natural resources to beyond. This in itself is also a beacon of traditional architecture and technology.
The Sattal courtyard, a covered structure located at two opposing corners, has been created at the Expo for use as an exhibition area as well as to stage cultural events, house various stalls and offices, and serve as an information center.
The opposite corner to the pavilion entry point features a small garden of herbs, trees and shrubs that are used as ingredients in traditional Nepalese medicine. The garden has been created also as a symbol of the role vegetation plays in purifying the atmosphere and as a natural habitat for other life forms.
With the Mandala as the conceptual focal point, the exhibition is designed to show how the art, architecture, culture and way of life in Nepal evolved through the spirituality of Buddhism and Hinduism and to depict the "wisdom of life" of the Nepalese people.

Food / Drink
The pavilion has a restaurant that offers authentic Nepalese cuisine.
Goods
Various Nepalese handicrafts made from indigenous materials are available at the pavilion. Some of the Nepalese plants in the pavilion's garden are also on sale.