Sapporo
The most magnificent natural scenery remaining in Japan can be found in Hokkaido. With its expansive plains, scenic mountains, beautiful wetlands, lovely flowers, and delightful animals, Hokkaido is a treasure trove of nature's splendors that will captivate the eyes of travelers, particularly during the optimum travel season from spring to summer. Even up to the middle of May, until the real beginning of Hokkaido's late arriving spring, visitors can enjoy "spring" skiing at any number of ski resorts where the snow still remains. Another of Hokkaido's attractions is the great number of hot springs resorts located throughout Hokkaido that boast abundant amounts of natural spring water. A luxurious dip in a hot springs bath is the perfect relaxation after a strenuous day of outdoor sports.
The political and economic center of Hokkaido is the city of Sapporo. With its urban landscape arrayed in an orderly grid through which Odori Park stretches at its heart, the national Hokkaido University, numerous distinctive art and natural history museums, as well as elegant shopping spots and fresh and delicious foods, Sapporo is filled with many attractions that captivate travelers from all over the world. Visitors also have the opportunity to step into the history and traditions of the Ainu, the indigenous people of the region. In addition, Sapporo serves as a convenient hub for those wishing to travel around Hokkaido.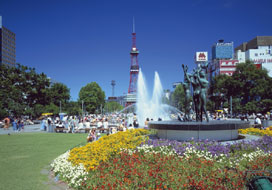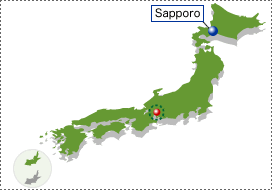 Place to see
Former Hokkaido Government Office Building
This building is a representative symbol of the pioneering days of the Meiji Era. A visit to it will introduce the visitor to the conditions and changes Hokkaido underwent during the early period of its modern development. Graced by its pond and trees, the building's front garden provides a relaxing place for tourists and local citizens. On the outskirts of Sapporo, the Historical Village of Hokkaido, with its restored buildings and horse-drawn trolley, is a popular tourist spot where one can experience the frontier days of Hokkaido.
Odori Park
From the Sapporo TV Tower, which rises above the Sosei River running through the center of Sapporo, at its east end to the Sapporo City Archives Museum at its west end, Odori Park stretches for 1.5 kilometers and is 105 meters wide. The greenery provided by the park's trees and the beautiful blossoming of its flowers from spring to summer offer a restful haven for Sapporo's citizens and tourists.
Museums
Distinctive art museums such as the Sapporo Museum of Sculpture and the Hokkaido Museum of Modern Art can be found throughout the city. Sapporo is also one of the three largest beer-producing areas in the world, and at the Sapporo Beer Museum visitors can enjoy learning about the history of beer brewing.
Recreation
Nakajima Park
With a variety of attractions within its grounds such as a museum and a Japanese garden, Nakajima Park is a complete urban park that people of all ages enjoy.
Mt. Moiwa
Visitors can take a cable car and a chair lift to the observatory at the top of the mountain to enjoy a panoramic view of Sapporo, from the city center to Ishikari Bay. The view at night is also stunning.
Hokkaido University Botanical Garden
Run by Hokkaido University, this complex features a botanical garden and an art museum. More than 4,000 varieties of Hokkaido's plants are cultivated over the 14 hectares of this site. At the Ainu Museum located near the front gate, visitors can also learn about the traditional culture and lifestyle of the Ainu people.
Tanuki-koji
"Raccoon Street" is a shopping arcade filled with boutiques, souvenir shops, and restaurants offering local foods.
Susukino
This is a famous entertainment district. Its Ramen Yokocho (Ramen Alley), a street lined with shops serving various types of ramen (basically Chinese-style noodles in Japanese-style broth but with many kinds of soup and noodles) is usually thronged with local residents and tourists.
Food and Drink
Hokkaido is a cornucopia of delicious foods, its bountiful nature producing a wide array of agricultural, seafood, and dairy products. In Sapporo, visitors can enjoy both the very flavorful natural simplicity of Hokkaido's special local cuisine that makes full use of these products, as well as the sophisticated flavors of French, Italian, and other national cuisines.
Seafood
In addition to typical seafoods like crab, shrimp, and salmon, diners can enjoy rare seafood delicacies available only in Hokkaido at reasonable prices. The local cuisine features sashimi, sushi, chancha-yaki , (a baked casserole-like dish of salmon, cabbage and other vegetables topped with miso and butter) and other local dishes that should not be missed.
Agricultural produce
Vegetables like corn, asparagus, and potatoes, and fruits such as melons and watermelons are grown in abundance, and their freshness and deliciousness are the envy of Japan.
Wine
Hokkaido has several wine producing areas in Ikeda, Furano, Otaru and elsewhere, and these locally produced wines can all be enjoyed in Sapporo.
Ramen
Known as a "ramen heaven," Sapporo boasts over 700 ramen shops. Comparing the tastes offered up by popular shops is a real culinary pleasure.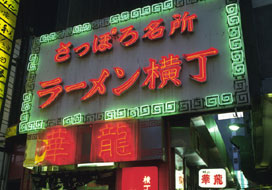 Genghis Khan
This dish is a sizzling barbecue of lamb that only Hokkaido can provide. Meat and vegetables are cooked on a specially-shaped plate and flavored with a delicious sauce.
Shopping
Products like traditional Ainu handicrafts and the region's intricate glassware are recommended as memorable souvenirs of a trip to Hokkaido. Confections that can be kept for several days also make excellent gifts from Hokkaido.
Japanese and Western confectionaries
With its extensive dairy farming, Hokkaido produces many delicious Western and Japanese sweets using fresh butter and cream that are very popular with travelers. Japanese confections using Hokkaido-grown red beans and fresh dairy products are also very delectable.
Craftwork
Wood-carved folkcraft objects and glass craftwork are popular as reasonably-priced souvenirs.
Information
Japan Travel Phone: 0088-22-4800 (toll free; English spoken)