Hiroshima
Hiroshima is the biggest city in the Chugoku region (a large region in Honshu, it is located west of Osaka and Kobe, faces the Japan Sea to the north and the Seto Inland Sea to the south, and extends to Kyushu in the west). The main Ota River and several other rivers flow through Hiroshima, which also has a great deal of trees and greenery. Hiroshima is a beautiful city with many famous places such as Hiroshima Castle and Shukkei-en Garden and other interesting sites to see. Like Nagasaki, coming back from its excruciating suffering from the atomic bomb, Hiroshima is known around the world as a city of peace that is dedicated to the attainment of permanent world peace. The Atomic Bomb Dome, its skeletal remains preserved as they were since the dropping of the atomic bomb, has been registered as a UNESCO World Heritage Site.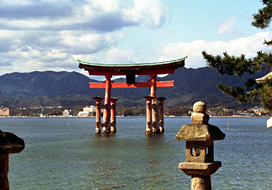 © Hiroshima prefecture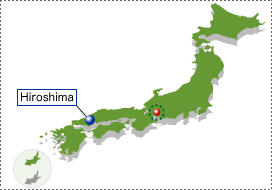 Places to see
North of Hiroshima City there are several national parks, with the Chugoku mountains as a beautiful backdrop, and to the south there is Japan's first Seto-Naikai (Inland Sea) National Park, which provides some spectacular sightseeing. Surrounded by the sea and mountains, Hiroshima attracts visitors with the beautifully changing natural scenery of its nearby highlands, valleys, and islands.
Hiroshima Castle
A famous castle, its reconstruction was completed in 1958. Splendidly constructed, the castle has a five-story castle tower, which houses an observation room and a museum.
Shukkei-en Garden
Within the over 15,000 square meters of the garden there are a large pond, mounds, and slight valleys. Modeled after Lake Xi Hu in China, Shukkei-en Garden is well-known as a garden harmonizing greenery and water.
Museums
Many pieces of Japanese and Asian crafts and arts are displayed at the Hiroshima Prefectural Art Museum, which is adjacent to Sukkei-en Garden. The Hiroshima City Museum of Contemporary Art and the Hiroshima City Manga Library, which has a unique collection of famous manga magazines, are located in Hijiyama Park.
Atomic Bomb Dome/Peace Memorial Park
Standing across the river from the Hiroshima Peace Memorial Park, the Atomic Bomb Dome remains in visitors' memories as a symbol for never repeating the tragedy of the use of atomic weapons. In the Peace Memorial Park there is the Memorial Cenotaph for the Atomic Bomb Victims, which preserves a list of the names of all of the people killed by the blast. The Children's Peace Memorial, which is the basis for the continuing paper crane peace movement, is decorated with the thousand paper cranes into which a young girl who died at age twelve from leukemia contracted from atomic-bomb radiation folded her prayers for peace.
Recreation
Cruises
There are river cruises along the Ota River and round-trip lunch and dinner cruises on luxurious boats around Hiroshima and Miyajima.
Miyajima
Famous for its Itsukushima Shrine, which is designated as a World Heritage Site by UNESCO, Miyajima is an island rich in nature and with a profusion of pristine forests. It is a popular tourist spot that can be visited on a one-day trip from downtown Hiroshima. With its "floating" torii (a gate made of, in this case, huge wooden columns and crossbeam standing at the entrance to a Shinto shrine) rising beautifully from the sea, Miyajima is considered one of the three most beautiful spots in Japan.
Dining
Visitors can enjoy the local food, which especially utilizes seafood from the Seto Inland Sea, at popular prices.
Hiroshima-yaki
With noodles mixed into it, this is Hiroshima-style okonomiyaki . There are hundreds of okonomiyaki shops in Hiroshima, and there are even buildings in which several different okonomiyaki restaurants are concentrated.
Oysters
Hiroshima is a famous oyster-producing area, and oysters figure in Hiroshima's distinctive nabe-ryori (hot pot) cooking. There are also many kinds of dishes utilizing the fresh seafood brought up from the Seto Inland Sea.

Anago-don
In this dish sea eel grilled with a savory sauce is served on hot rice in a bowl.
Shopping
Hiroshima's subtly delicious confections, which can also be kept for a long time, are famous throughout Japan.
Japanese confections
Because of the influence of a famous school of the tea ceremony in Hiroshima, there are many refined Japanese confections, including dried sweets (with little water content, they can be stored for long periods), available in Hiroshima.
Tourist offices
Information office (Hiroshima Station): (082) 261-1877 (English spoken)
Hiroshima Rest House: (082) 247-6738 (English spoken)
International Conference Center, Hiroshima: (082) 247-9715 (English spoken)