Yokohama
The second largest city in Japan after Tokyo, Yokohama is an international port city like Kobe that, among the cities around Tokyo, has a unique atmosphere stemming from its old history. Yokohama boasts many international and unconventional establishments for shopping, dining, and drinking and has been popular for many years as a date spot for couples. As a city of the 21st century in the national capital region, Yokohama also developed its "Minato Mirai 21" project, which allocated different urban functions to specific zones. Various hotels and amusement facilities have been developed in the "MM 21" district, which has become a new center of note in Japan. In contrast, many old, established commercial areas and historical temples and shrines still remain, and this harmonization of old and new cultures has made Yokohama ever popular among foreign and domestic tourists.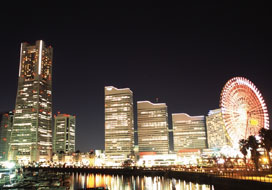 Places to see
A sophisticated city that visitors can get to from Tokyo and back in one day, Yokohama is a must-see destination for any travel itinerary. Whether as a couple or a whole family, foreign visitors will be able to enjoy a very pleasant day in Yokohama.
Motomachi
Boutiques, jewelry and furniture stores, and other distinctively "Motomachi-brand" stores (local men's stores, handbag stores, and other establishments favored with the image of being in the fashionable Motomachi location) line this famous street in Yokohama, which is known for its elegant retailers.
Zoo, aquarium
The Yokohama Zoo: "Zoorasia," where many rare animals are raised, and the huge aquarium and amusement rides at Hakkeijima Sea Paradise are popular spots for families.
Night scenes
Beautiful night views of Yokohama can be enjoyed at many scenic places such as the Yokohama Bay Bridge Sky Walk (a glass-enclosed walkway on the bridge that leads to an observation deck), Harbor View Park (a hill-top park near Yokohama Bay), Kishamichi Promenade (a former railroad route that runs over the canal in Yokohama Harbor), and Marine Tower (the tall lighthouse overlooking Yokohama Bay).
Chinatown
The biggest Chinatown in Japan, this district boasts numerous Chinese restaurants lining both sides of its narrow streets. Take-out food and confections are also available. Throughout the year, Yokohama's Chinatown is thronged with tourists.
Recreation
Amusement parks
A futuristic amusement park landmarked by its huge Ferris wheel is located in the Minato Mirai 21 district. Visitors can enjoy its thrilling rides, including a jet coaster that plunges into the water.
Cruises
Visitors can enjoy jazz while savoring authentic Cantonese cuisine on the biggest entertainment cruise ships in Tokyo Bay.
Dining
Visitors can enjoy "restaurant hopping" while strolling through Yokohama's Chinatown, the main focus of dining in Yokohama, or sample the flavors of international cuisines at any of the many long-established restaurants in the city.
Chinese cuisine
With around 500 restaurants in Chinatown, ranging from the most elegant to family-style eateries, visitors can enjoy all types of Chinese cuisine.
Gyunabe (beef pot)
Similar to sukiyaki, gyunabe originated in Yokohama. There are many lovers of this stewed dish in which beef and other ingredients are simmered in a special miso sauce.
Shopping
Visitors can choose from an interesting assortment of souvenirs evoking the history of Yokohama or purchase international brand-name goods at any of Yokohama's department stores or shopping malls.
Original goods
Yokohama boasts a great variety of original idea goods, such as figurines shaped like shumai , one of Yokohama's specialty foods renga (brick) chocolate, which is molded into the form of a red brick, and cups decorated with pictures of old European ships.
Information
Tourist Information Center: 045-211-0111 (English spoken)