Osaka
Osaka has flourished since long ago as a focal point of distribution between west and east Japan, and it is still continuing its development as the commercial center for the Kansai region. Osaka is broadly divided into north Osaka (Umeda area) and south Osaka (Nanba and Shinsaibashi areas), and day or night the business districts on both sides are bustling. At present, Osaka is developing the area along Osaka Bay, and amusement facilities and outlet malls have been built there. Osaka, called the "Kui-daore City," (literally meaning a city where a person can indulge extravagantly in food and drink until he is broke) also has a distinctive and varied food culture, and its many restaurants serving cheap and delicious foods are very popular with tourists.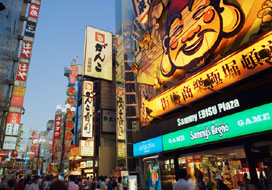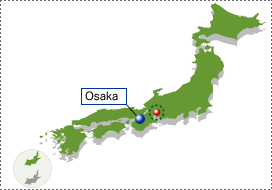 Places to see
Osaka has a completely different historical background from Tokyo's. With a sophisticated culture that developed earlier than that in Tokyo, Osaka boasts numerous historical buildings throughout the city, along with no lack of amusement spots and attractions.
Osaka Castle
Visitors can learn about all aspects of Osaka Castle by diorama and video in the commanding main tower (the Tenshukaku , or castle keep, was a towering structure that symbolized the authority of the feudal lord and also functioned as a look-out tower and command post during wartime). A park encircles the castle, and visitors can take pleasant strolls amid the greenery in Nishi-no-maru Garden and other areas of the grounds.
Osaka Museum of Oriental Ceramics
Featuring collections of Korean ceramics from the Koryo and Choson Dynasties (10th-14th centuries) as well as Chinese ceramics, the museum owns a number of precious ceramic vessels designated as National Treasures and has world-class collections of oriental ceramics.
Fujita Museum of Art
The museum has over 5,000 pieces of antique Japanese art, including items designated as National Treasures. A beautiful garden adjoins the museum.
Tennoji Park
The park has an art museum, zoo, and Japanese garden, as well as various fountains and a large greenhouse.
Shitennoji Temple
This is the oldest temple in Japan. Within its compound (the temple grounds), which is designated as a historical landmark, there are a kodo (a lecture and ceremonial hall), a five-story pagoda (where the Buddha's ashes, busshari , are said to be kept), and a stone gate.
Sumiyoshi Taisha Shrine
This shrine has been long venerated as the home of the guardian deity of sea travelers. In addition to the inner shrine (the honden , the shrine's central edifice where the shrine's deity is enshrined), which is designated as an Important Cultural Treasure, a stone stage (where dances dedicated to the gods are performed), and the south gate, the shrine has a beautiful arch-shaped bridge.
Recreation
Tenpozan district
The center of the Osaka Bay area, the Tenpozan district has a variety of facilities, including a museum with an I-MAX theater, where visitors can enjoy galleries and giant three-dimensional figures on screen, a huge world-class-size Ferris wheel, and an enormous aquarium, where the living ocean environment is recreated.
Water buses
Visitors can take an excursion down the main rivers flowing through Osaka. The 10-kilometer course that passes by Nakanoshima Park, Sakura-no-miya Park, and Osaka Castle gives passengers splendid views of Osaka, the "water capital." Entertainment boats offering French cuisine from famous hotels also ply Osaka's waters.
North and South Osaka
In both areas are concentrations of department stores, large stores, and shopping malls; underground arcades are also being developed. Other well-known shopping areas are the electrical appliance district in Nihonbashi and the toy wholesale district in Matsuyamachi-suji.
Osaka Tenmangu Shrine
The god of learning is enshrined here. In July the shrine annually holds the Tenjin Festival, and as it is one of the three biggest festivals in Japan along with the Kanda Festival in Tokyo and the Gion Festival in Kyoto, the area is thronged with visitors and revelers. The approach to the shrine is the Tenmanbashi shopping street, Japan's longest shopping arcade, and it is lined with shops selling shrine-related items, restaurants, clothing stores, and other stores with a common touch.
Classical performing arts
Visitors can appreciate the classical Japanese performing arts of kabuki (traditional theatrical art developed and refined in the Edo Period) and bunraku (puppet theater with storytelling accompanied by a shamisen , a Japanese stringed instrument) at the Shin Kabukiza (New Kabuki Theater) in Namba and at the National Bunraku Theater in Nihonbashi.
Theme parks
Like Tokyo with its Tokyo Disneyland (actually located in Chiba), Osaka is the home of Universal Studios Japan. Visitors can enjoy a variety of rides, shows, restaurants and other attractions there.
Dining
Greatly prospering as a city of commerce and finance in the Edo Period (17th-19th centuries), Osaka has developed a unique food culture, which is quite different from Tokyo's.
Popular foods
Osaka has many restaurants serving cheap and delicious foods like udon (noodles made from wheat flour served in a Japanese-style soup), takoyaki (grilled balls of flour-and-water batter filled with bite-size pieces of octopus meat and served with Worcester sauce), and okonomiyaki (savory Japanese-style water-and-flour grilled pancakes filled with chopped onions, cabbage, pork, etc. and coated with Worcester or another sauce), where visitors can enjoy Japan's commonplace dishes. There are also many popular and reasonably priced kushikatsu (fried skewers of meat and vegetables dipped in a special sauce) and yakiniku (Korean barbecue) restaurants.
Korean cuisine
Plentiful arrays of authentic Korean foods and Korean restaurants attract visitors to the Tsuruhashi Market (popularly known as the International Market).
Osaka sushi (boxed sushi)
Osaka has many admirers of its boxed sushi (rice and sushi ingredients pressed into a box) containing kodai (pressed young sea bream), anago (sea eel) andebi (shrimp), as well as of its rolled sushi containing sea eel and egg roll.
Mamushi (eel) et al.
Osaka's other savory dishes include eel prepared by Osaka's unique cooking method (different from the Kanto style of cooking, the eel is grilled directly without being steamed first), oden (Japanese hotpot), and sukiyaki.
Shopping
Many shopping spots in Osaka offer goods like electronics and optical equipment at discount prices. Shoppers can buy goods at prices greatly reduced from the list prices without worrying about a decline in quality.
Museum goods
Original goods available at museums and amusement parks make ideal commemorative travel souvenirs.
Electrical appliances
Rivaling Tokyo's Akihabara, Osaka's electrical goods district, familiarly called "Electric Town," is always very active. With passport in hand, foreign tourists should shop at any of the stores with "Tax Free" signs. Almost all stores are closed on Wednesdays.
Household goods/cameras
Very good bargains for household goods and cameras can be had in the Dogusuji-ya shopping arcade and other areas in Osaka's Minami (South) district.
Information/Tourist offices
Osaka Tourist Association "Visitors' Information Office":
Shin-Osaka: (06) 6305-3311;
Osaka: (06) 6345-2189;
Namba: (06) 6643-2125;
Tennoji: (06) 6774-3077 (English spoken)