Kobe
With many foreigners residing in the city since quite a long time ago, the port city of Kobe has a distinctively international atmosphere. Known as a fashionable and refined city, Kobe has many fashion-related stores that are first-class. With many places to see like Mt. Rokko, Nankin-machi (Kobe's Chinatown), and the Kobe Bay area, Kobe is very popular as one of the most charming cities in Japan. In addition, Arima Hot Springs, a famous hot springs resort, is close by, and with just a short trip, visitors can enjoy a very relaxing sightseeing experience there.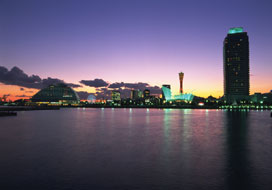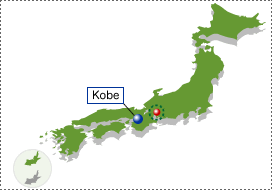 Places to see
The city of Kobe spreads out over a sloping incline that starts from the mountains behind the city and continues on down to the sea. During the Meiji Era, Kobe was deeply imbued with European and American influence, and the exotic aura of that era still remains in the city today.
Kitano Ijinkan (Foreigner's House Street)
The residential area for foreigners in the Kitano district was called Ijinkan-dori or the Foreigner's House Street. Very popular with tourists, the area contains residences designated as Important Cultural Properties.
Nunobiki Herb Garden
Around 75,000 herbs and other plants are planted in this garden. There is also an observation deck restaurant, where diners can enjoy herb-spiced dishes.
Mt. Rokko
Visitors can enjoy the beautiful natural settings in the Rokkosan Pasture and the Takayama Botanical Garden. From the top of Mt. Rokko a panoramic vista from Kobe City proper to the bay area beyond spreads out before the viewer. At night visitors can also enjoy this spectacular "ten-million-dollar" night view of Kobe.
Recreation
Motomachi and Sannomiya
With many long-established clothing stores and cafes in Motomachi, movie theaters and other entertainment spots in the Sannomiya Center Shopping Street area, and many distinctive and original shops in neighboring areas, these districts provide enjoyment for people of all ages.
Cruises
Visitors can take excursion tours around Kobe Bay and to Akashi Straits (the straits between Akashi City west of Kobe and Awaji Island south of Akashi) on boats offering lunch or dinner.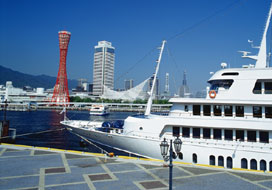 Nada
A leading sake-producing area in Japan, Nada has a sake museum, where visitors can see on large-screen the traditional methods for brewing sake, and sake breweries (kuramoto ) where the interested can learn about the making of sake and sample various kinds. Visitors can enjoy the charms of sake to their heart's content in Nada.
Dining
Long open to the outside world, Kobe has developed a unique foreign food culture. Even for fast foods, visitors can enjoy some original creations found only in Kobe.
Kobe beef
Kobe beef is the top grade of Japanese beef. Kobe's steaks, barbecue, and sukiyaki provide diners with succulent top-quality beef.
Chinese cuisine
Visitors can enjoy authentic Chinese cuisine in Nankinmachi, Kobe's Chinatown, which is near Motomachi. For budget-minded travelers, lighter fare such as yamcha (known as dim sum overseas, for example, steamed dumplings filled with minced meat or shrimp and encased in a flour wrapper, spring rolls, sesame and coconut rice dumplings, etc.), take-out buta-man (flour buns filled with soy-sauce-flavored minced pork and onion that are steamed hot), and Chinese-style hamburgers containing pork or shark meat fillets are recommended.
International cuisine
With the long history of foreigners living in Kobe, there are many restaurants offering the cuisine of countries around the world. Diners can enjoy the authentic tastes of Europe, the Middle East, and Asia that would be more difficult to find in other regional cities in Japan.
Bread and sweets
The deliciousness of Kobe's bread is well-known throughout Japan, and many tourists buy it as their gifts from Kobe. Kobe is also the birthplace of Japan's Western confectionary culture, and many long-established and traditional confectioners continue to produce their delicious sweets today.
Shopping
Kobe boasts many shopping spots, from long-established stores carrying original goods to large department stores and shopping malls.
Fashion
Distinctive and original-design accessories are very popular fashion items for girls and women.
Information
Tourist Information Office: (078) 322-0220 (English spoken)