Sendai
Sendai is the leading city in the Tohoku region. The prefectural capital and interlaced with verdant wooded areas, Sendai harmonizes the atmosphere of a historical castle town with the functions of a modern city. Natural settings in the city change beautifully with each season, and the outskirts of the city are studded with several hot springs famous for their superior spring water. Its relative proximity—only an hour-and-a-half trip by Shinkansen (Bullet Train)—from Tokyo makes Sendai a wonderful tourist destination that can be easily visited.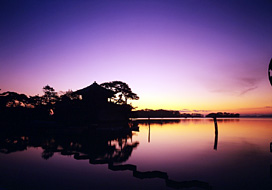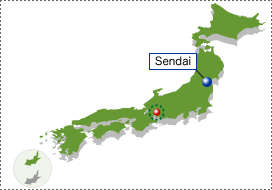 Places to see
Well-known hot springs resort areas can be found in the picturesque areas facing the Pacific Ocean on the outskirts of Sendai and in the inland mountain-side areas. Sendai has also flourished as an area of historical importance for hundreds of years, and visitors can see many historically valuable buildings in the city.
Matsushima
Very picturesque, Matsushima's bay is dotted with more than 260 islets, and along with Itsukushishima in Hiroshima and Amano-Hashidate in Kyoto, it is ranked as one of Japan's three most scenic views. Throughout the year, many tourists from elsewhere in Japan and abroad visit Matsushima, and touring the islets by cruise boat enjoys unchanging popularity.
Zuiganji Temple
The present buildings were built in 1604. The dazzling hondo (the main temple hall housing and displaying a Buddhist statue) and the kuri (mainly used as the temple's kitchen) have been designated as National Treasures.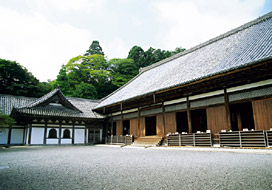 Godaido Temple
Standing on a small island in Matsushima Bay, Godaido (a do is a building or hall in which Buddhist images are enshrined) is the symbol of Matsushima.
Sendai Castle
Also called Aoba-jo Castle, this is the remains of the residential castle of the daimyo Date Masamune. The castle was built as a natural fortress, with its east and south sides buttressed by a solid precipice. The past has been preserved in the stone walls and the castle tower (in castle architecture, spaces were prepared above the castle gate and in the castle walls to monitor enemy movements and fire on attacking soldiers), and the grounds of the castle have been transformed into a park, providing an excellent view of the city.
Akiu Otaki Falls
These impressive falls are 6 meters wide and fall from a height of 55 meters. The best seasons to see Akiu Otaki are at the beginning of summer, when the new foliage comes out, or autumn, when the leaves beautifully change color. Akiu Otaki has been designated as one of the most picturesque sights in Japan.
Festivals
The Sendai Aoba Festival held in May presents a colorful parade featuring a procession of samurai warriors. The Tanabata Festival in August is famous throughout Japan and attracts a great number of tourists every year. Lasting for two days, festivities begin with a huge fireworks display the night before the day of the actual festival, when an exciting parade winds its way through the city. This festival is one of the representative summer festivals of Japan.
Recreation
Driving
The Zao Echoline Drive (a 26-kilometer-long scenic mountain road that runs from Togata Hot Springs in southwest Sendai to Bodaira Heights on the western side of Mt. Zao) is a popular driving course that gives travelers beautiful views of the Mt. Zao range.
Food and Drink
Visitors will enjoy the fresh seafood, delicious rice, and delicate sake made from that rice, all of which have a delectableness that can be found only in Miyagi Prefecture.
Gyutan (beef tongue)
Grilled beef tongue is a dish that originated in Sendai, and there are many restaurants proudly serving gyutan as their specialty. Sendai beef is also famous, and many Japanese, Western, and Chinese restaurants in Sendai serve this beef in a variety of succulent ways.
Seafood
With good harbors nearby providing plentiful catches, visitors can enjoy fresh seafood such as oysters from Matsushima Bay. Sendai also has many first-rate sushi shops.
Drink
A famous rice-producing region, Miyagi Prefecture boasts a number of sake breweries that produce many high-quality brands of sake.
Shopping
Sendai offers a variety of unique products, from traditional craft art whose techniques have been carefully preserved by master craftsmen generation after generation to local folkcraft dolls loved by all.
Sendai Tansu (chest of drawers)
Made of zelkova wood and adorned with beautifully-wrought iron fittings and handles, Sendai tansu are made by techniques 300 years old.
Lacquerware
Lacquered up to 40 or 50 times, the color of this lacquerware matches the sheen of a beetle's (tamamushi ) wing, and so it is called Tamamushi-nuri lacquerware. The traditional techniques and modern designs of this lacquerware have gained it popularity overseas.
Japanese paper
Yagyu Japanese paper, which is made from clean water, is specially produced by traditional techniques dating back to the period of Date Masamune (first half of the 17th century).
Kokeshi dolls
Miyagi Prefecture is known as the birthplace of kokeshi dolls (folkcraft dolls made of wood with brightly painted round heads and cylindrical bodies). Kokeshi dolls, with their unique features from each district, make perfect souvenirs.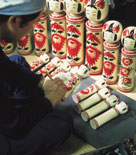 Information
Tourist Information: 022-222-4069 (English spoken)
Sendai International Center: 022-265-2474 (English spoken)
Sendai English Hotline: 022-224-1919 (English spoken)