Kyoto / Nara
Kyoto
Since it first became Japan's actual capital (political and cultural) in 794, Kyoto has been the cultural, while not the political, capital of Japan for nearly 1,300 years. With its world-renown architecture, treasure houses of important cultural assets, and World Heritage Site shrines and temples, Kyoto offers an inexhaustible number of places to see. Every year great streams of domestic and foreign tourists are captivated not only by these sites but also by the festivals celebrating Kyoto's elegant Court culture, local artisans' refined craftwork, and Kyoto's unique entertainment exemplified by the performances of maiko (young women who entertain guests by singing, dancing, and playing musical instruments).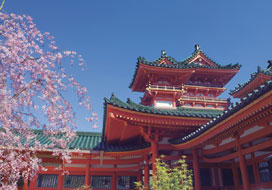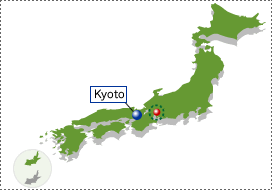 Places to see
Throughout the city proper and its environs, Kyoto is studded with numerous historical spots that impart to the visitor a real feeling of Japan's history and art. There are so many attractions in the city that the tourist cannot see all Kyoto has to offer in only a few days.
World Heritage Sites
Many of Kyoto's historical shrines and temples have been designated as World Heritage Sites by UNESCO, and all of them hold many important cultural assets that are very worthwhile seeing. (Castle: Nijo Castle; shrines: Kamigamo Shrine, Shimogamo Shrine, Ujigami Shrine; temples: Byodoin Temple, Daigoji Temple, Enryakuji Temple, Ginkakuji Temple, Kinkakuji Temple, Kiyomizu Temple, Kozanji Temple, Ninaji Temple, Nishi-Hongwanji Temple, Ryoanji Temple, Saihoji Temple, Tenryuji Temple, Toji Temple.)
Kinkakuji Temple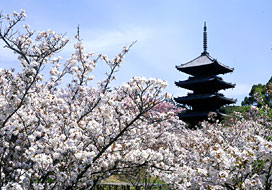 Ninaji Temple
Gion
Sections of Shirakawa Minami-dori Street and Hanami-koji Street, which are lined by gorgeously painted red-burnished walls, are excellent areas for tourists to feel the serene atmosphere of Gion, Kyoto's traditional entertainment district.
Festivals
Traditional festivals and other events are held during each season in Kyoto. Among them, the Aoi Festival (middle of May), when a sacred Imperial scroll depicting the dress and customs of ladies and nobility of the ancient court is unrolled, and the Gion Festival (middle of July) draw particularly huge crowds.


Gion Festivals
Recreation
Experiencing Gion
Experiencing the Gion entertainment arts of the tea ceremony (traditional ceremony in which the tea master prepares powdered Japanese green tea and serves it to guests in a prescribed manner), gagaku (ancient Japanese orchestral court music featuring traditional Japanese musical instruments), and dance (traditional Japanese-style dance) at the Gion Corner (inside Yasaka Hall) is a time-saving way to enjoy classical Japanese performing arts and has gained great popularity among both Japanese and foreign tourists. Around the Gion district there are also places very popular among women where female tourists can be transformed into maiko . While the Miyako Odori (Miyako or Cherry Blossom Dance) is being performed at the Gion Kobu Kaburenjo during the entire month of April, visitors can enjoy an even more magnificent Gion experience.
Tours
To make the most efficient use of time when sightseeing in Kyoto, which has so many tourist spots, tours with English-speaking guides are recommended.
Dining
Kyoto has developed a unique food culture shaped by the city's history and traditions. Dining in Kyoto, visitors can experience the elegance of traditional Japanese cuisine, which uses unique ingredients and processes and is also very pleasing to the eye as well as the palate.
Kyoto cuisine
Kyoto cuisine makes the best use of Kyoto's exceptional vegetables, tofu, and seafood from Wakasa Bay, and it is presented in a beautiful and elegant way. From authentic kaiseki ryori (traditional Japanese cuisine) to light bento (lunch) boxes, visitors can enjoy a variety of tastes matching their budgets.

International cuisine
With many tourists from all over the world visiting Kyoto, there are a number of French, Italian and other restaurants masterfully tended by chefs with extensive training abroad.
Shopping
There is a large shopping arcade running through the old commercial district of Kyoto where shoppers can buy crafts, sundry goods, and foods at moderate prices. Visitors can also buy the special products of Kyoto at the department stores connected to Kyoto Station and in the city's shopping malls.
Craftwork
Japanese crafts like Kyoto fans, Kiyomizu-yaki ceramics (painted ceramic and porcelain ware developed and refined in the area around Kiyomizu Temple during the Edo Period), and Nishijin-ori textiles (beautiful and exquisitely crafted textiles woven in Nishijin, a textile producing district) make ideal souvenirs.
Incense
The unique Japanese incense ceremony, kodo (the art of naming the type of incense being burned and appreciating its perfume), originated in Kyoto. A wide variety of incense sticks can be purchased in Kyoto, from expensive high-quality items to incense that can be easily used for every day life. Small incense bags made from crepe make excellent gifts.
Japanese confections
Kyoto's hi-gashi (dry candy) molded into the shapes of fruits or vegetables make beautiful gifts.

Tsukemono (pickles)
Kyoto's tsukemono is made by traditional methods using a variety of vegetables like eggplants, cucumbers, etc.
Information/Tourist offices:
Japan National Tourist Organization's "TIC": (075) 371-5649 (English spoken)
Kyoto City Tourist Information Center: (075) 343-6656 (English spoken)
Kyoto Prefecture Tourist Information
Nara was the ancient Imperial capital until the capital moved to Kyoto at the end of the 8th century. A great deal of Buddhist culture and architecture still remain there, and many valuable ancient ruins have been excavated in Nara. With its many simple and neat buildings and streets and beautiful natural surroundings, visitors can enjoy a tranquil time in Nara away from the bustle of other cities. After Kyoto, Nara has the most World Heritage Sites, which are spread out over a rather large area, in Japan. (Temples: Todaiji Temple, Toshodaiji Temple, Kofukuji Temple, Yakushiji Temple, Gangoji Temple; shrines: Kasuga-Taisha Shrine, Heijo Palace Site, Primeval Forest of the Kasuga-Taisha Shrine). The festivals and special events held throughout the year at Nara's shrines and temples are also worthwhile seeing.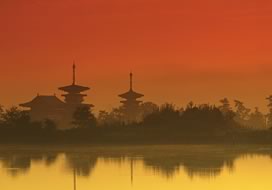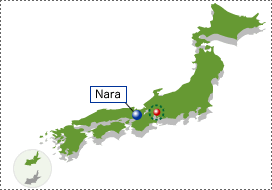 Places to see
In Nara, one can trace Japanese history from ancient times and touch the spirit of the Japanese people. It is an area where the visitor will want to take his or her time to enjoy the quiet calm of Nara and the abundant natural surroundings of its environs.
Nara Park
A famous tourist spot, Nara Park is the location of Todaiji Temple, where the Daibutsu, the Great Statue of Buddha, is housed, and Kofukuji Temple, the site of the famous five-storied pagoda, as well as the home for many cute free-roaming deer. Visitors can also see valuable cultural treasures from the Shoso-in, the Imperial Repository (a large wooden storehouse that held treasures and documents from Todaiji Temple and other valuable objects), at the Nara National Museum.
Kasuga Taisha Shrine
The Kasugayama Primeval Forest extends out from behind the Kasuga Taisha Shrine, which itself is surrounded by trees. Thick clusters of cedar and other trees grow luxuriantly in the forest, and it has been designated as a World Heritage Site. Although the public cannot enter freely into the forest, there are footpaths at certain locations for the convenience of visitors.
Nara-machi
Many old buildings from the Edo Period and the Meiji Era remain in this area. Gangoji Temple, Imanishi-ke Shoin, and several archival museums are located in Nara-machi, which also has many old houses and shops adorned with beautiful latticework.
Dining
Nara's local specialty cha-gayu , a rice and tea porridge, is a healthful dish that especially aids digestion. Vegetarians should find it particularly to their liking.
Cha-gayu (tea gruel), Cha-meshi (rice boiled in tea)
Cooked in tea, cha-gayu and cha-meshi are popular dishes of Nara. Many kinds of variations are possible, for example, adding different beans or white miso paste.
Kaki-no-ha Sushi (sushi wrapped in persimmon leaves)
Trout or mackerel marinated in vinegar are placed on sushi rice and wrapped in persimmon leaves. They can be eaten in restaurants or, as many people do, taken out to be enjoyed outside.
Shopping
There are a number of shopping arcades in the central district of Nara, and in some of them are businesses that can trace their histories back to the Nara Period (8th century).
Traditional craftwork
Nara's traditional craftwork such as Nara carved dolls (carved by a technique known as ittobori , "one-chisel" carving), Nara "Round Fans," and calligraphy brushes is famous. Purses (kinchaku , small cloth pouches with a drawstring for carrying small items) and short, split noren curtains (usually made of cloth, they are hung at the entrances of houses or as partitions between rooms) made from Nara sarashi , which is hand-woven hemp cloth dyed a pure white, are given a modern feeling by dying them with vegetable dyes. They make ideal souvenirs or gifts.
Information
Nara City Tourist Information: (0742) 22-3900 (English spoken)