EXPO and Kyoto and Nara
A visit to Kyoto and Nara can never be excluded for the visitor who wants to understand and experience the style and beauty of Japan, which have been developed by Japan's long history and traditions. By using the Shinkansen (Bullet Train), the visitor can combine a one-night, two-day visit to these cities with other travel schedules.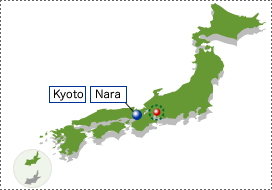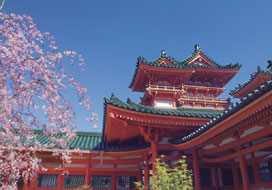 (A) EXPO → Kyoto (around 40 minutes by Shinkansen) → Kinkakuji Temple (by bus) → Toji-in Temple → Ryoanji Temple → Ninnaji Temple → Hanazono Station (by train; overnight stay in Kyoto) Koryuji Temple (by bus) → Uzumasa Movie Village → Arashiyama (by bus; walk in Sagano area to Daikakuji Temple etc.) cruise down Hozu River* → Kyoto (by bus) → Osaka (30 minutes by train) (Total: 1 night, 2 days)
Visitors to Kyoto will be able to appreciate the city's many famous temples, many of which are designated as World Heritage Sites and, through seeing the beauty of the many Buddhist statues, sliding door paintings, and gardens in Kyoto, come into contact with the spirit of the Japanese people, who, it can be said, are in a constant search for beauty. This course also provides a fun look at the manners and customs of the Edo Period by a visit to the open film sets of period dramas.
Kinkakuji Temple
Designated as a World Heritage Site, Kinkakuji Temple is a superb example of a Kyoto temple that first-time visitors to the city never fail to visit.

Toji-in Temple
The temple's gardens are superb. In particular, the West Garden is unsurpassed for the beauty of its contours, like that of its stone bridge.
Ryoanji Temple
The temple's sand and stone rock garden is known world-wide. In summer the water lilies floating on Ryoanji's Kyoyochi Pond are a beautiful sight.

Ninnaji Temple
There are many things to see at this temple, including the Kondo Main Hall ("Golden Hall") and the stroll-style landscape garden built around a pond.

Koryuji Temple
The statue of the serenely smiling Miroku Bosatsu is a must-see.
Uzumasa Movie Village
This tourist attraction has open sets for period movies (mainly set in the Edo Period), and movies are being shot there nearly every day. There are also displays of materials relating to Japanese movies.

Arashiyama and Sagano
Taking a walk through the bamboo groves in Sagano or along the Katsura River is a relaxing pleasure.
*Hozu River boat trip
A river cruise down the Hozu River from Kameoka to Arashiyama is 16 kilometers and takes two hours. The beautiful passing scenes of the river's gorge make for a very refreshing trip.

*Festivals
Main festivals are the Aoi Festival (a colorful procession on May 15 through Kyoto featuring court ladies and courtiers in aristocratic Heian Period dress re-enacting ancient rites and customs) and the Gion Festival's Yamaboko-junko (a procession of large mountain-shaped wooden floats that are gorgeously decorated held in the middle of the Gion Festival on July 17).


Gion Festival
(B) EXPO → Kyoto (about 40 minutes by Shinkansen) → Nara (40 minutes by train) → Nara Park → Kofukuji Temple → Todaiji Temple → Kasuga Taisha Shrine area → Takabatake area (10 minutes by bus) → Nara (overnight stay) → Horyuki Temple (10 minutes by train) → Nara-machi → Nara City → Osaka (40 minutes by train ) (Total: 1 night, 2 days)
This course takes visitors on a leisurely tour of Nara and its environs, allowing them to serenely feel the historical permanence of Nara, whose history is even longer than Kyoto's. Many UNESCO World Heritage Sites are included in the tour spots.
Nara Park
Around 1,200 deer are roaming freely in the park, and from the end of July fawns can be seen.
Kofukuji Temple
Designated as a World Heritage Site, the temple has superb Buddhist statues and a five-story pagoda.
Todaiji Temple
The vast temple grounds contain many structures including the Nandaimon (Great Southern Gate) and the Nigatsudo Hall. The greatest attraction is the huge Daibutsu (Great Buddha) statue housed in the Main Hall.
Kasuga Taisha Shrine and vicinity
Stone lanterns (lanterns made of unretouched stone) are set along the tree-lined walkway to the shrines. Enveloped by the greenery of the surrounding woods, the shrine's reddish main building is also an unforgettable sight.
Takabatake and vicinity
Takabatake is a quiet town, and Shin-Yakushiji Temple is located in the rural scenery of the area. The temple has a refreshingly serene aura to it. The Nara City Museum of Photography, which has the entire collection of photo works of the famous photographer Taikichi Irie, is also in Takabatake.
Horyuji Temple
Set in a tranquil rural area, Horyuji is also within walking distance of Chuguji Temple and Horinji Temple.
Nara-machi
This is a district located south of the Sarusawa Pond. Many Edo Period and Meiji Era buildings still remain in the area's quiet, orderly streets.