EXPO and Izu / Hakone
Izu and Hakone have long histories as resort spa areas for recuperation and health. The travel courses introduced below include, as some of their highlights, climbing Mt. Fuji, the highest peak in Japan and famed for its beautiful shape, as well as luxuriating in a hot springs bath in the midst of one of Japan's extraordinary natural settings, which appears nothing less than a sculpted landscape garden.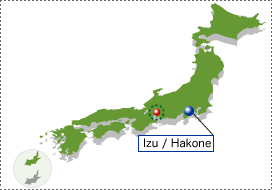 (A) EXPO → Mishima (around 2 hours by Shinkansen) → Mt. Fuji, new 5th station (around 2 hours by bus) → summit of Mt. Fuji (around a 4.5 hour climb) → Mishima (around a 3.5 hour descent) → IzuNagaoka (20 minutes by train; overnight stay) → Shuzenji Onsen (35 minutes by train from Mishima; overnight stay) → Mishima → Odawara (20 minutes by Shinkansen) → Hakone Onsen (by Hakone Tozan Railway*; overnight stay) → Ashinoko → Odawara → Tokyo (40 minutes by Shinkansen) (Total: 3 nights, 4 days)
This course features a climb up Mt. Fuji, the symbol of Japan, and, on the way back to Tokyo, a real taste of the Japan hot springs' experience, with stays at spas in Shuzenji and Hakone. The region's flowers and trees, which delight the eye in every season, are another pleasure of the trip.
Mishima
Very near Mishima Station is Rakujuen Garden, which has a beautiful landscape garden and a collection of masterpieces of Japanese-style painting for viewing.
Climbing Mt. Fuji
From Mishima to the summit, there is the Fujinomiya Route, which is for ordinary people with no particular climbing experience. In order to see the goraiko (sunrise) at the top of Mt. Fuji, most people stay overnight in one of the stone huts at the 8th station.

Izu Nagaoka
This is a historic hot springs resort area that has flourished since the Kamakura Period (150-year historical period from the latter half of the 12th century). Visitors can enjoy walking courses around parks and temples.
Shuzenji Onsen
A historic hot springs resort town, its inns and shops stand along the town's main river. Shuzenji Temple in the middle of the town is well-worth seeing for its distinctive temple architecture and wonderful ambience created by the surrounding lush greenery. (The overnight stay can be either in Izu Nagaoka or Shuzenji.)

Hakone hot springs
There are onsen (hot springs) inns near practically every station on the Hakone Tozan Railway route from Hakone Yumoto to Gora.

Ashinoko (Lake Ashi)
Going to Ashinoko by a combination of cable car and ropeway allows the visitor to enjoy the stunning changes in the magnificent scenery. Cruise boats cross the lake, giving passengers beautiful views of the surrounding mountains in Hakone.

Odawara
The large Odawara Castle Park (Odawara Joshi-koen), which centers around the donjon (the high castle tower, or tenshukaku , functioned as a look-out tower or a command post during periods of war and was the symbol of authority of the feudal lord) of Odawara Castle, is also well-known for its cherry and wisteria blossoms
*Hakone Tozan Railway
Around June the blooming hydrangea (hydrangea bloom into globular clusters of small red, blue, and purple flowers) along the railway are particularly beautiful.