EXPO and Hokkaido
The most magnificent scenery in Japan remains in Hokkaido. The course introduced below will allow the traveler to enjoy fully the beauty crafted by nature in Hokkaido as well as the relaxation provided by a hot springs spa. The course will take travelers not only to the capital of Hokkaido, Sapporo, but also to the recently redeveloped port city of Hakodate.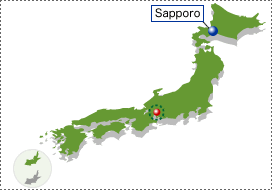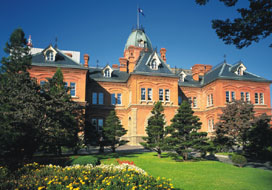 (A) EXPO → Sapporo (around 1 hour and 30 minutes by plane) → Furano (2 hours and 30 minutes by bus) → Asahikawa (1 hour and 30 minutes by bus) → Soun-kyo Gorge Hot Spring (around 2 hours by bus; overnight stay)/Mt. Daisetsu → Asahikawa → Sapporo (2 hours by bus) → Noboribetsu (1 hour and 30 minutes by train) → Lake Toya (1 hour and 20 minutes by bus; overnight stay) → Hakodate (1 hour and 30 minutes by train) → Tokyo (1 hour and 30 minutes by plane)
Travelers will be able to see the magnificent natural beauty of Hokkaido in this course. The course also features sophisticated shopping and dining in Sapporo and Hakodate, as well as a relaxing stay at a hot springs spa in Noboribetsu.
Furano
Furano is located nearly in the center of Hokkaido, and in summer lavender flowers blanket the area. Visitors can sample the local specialties at Furano's cheese makers and wineries.
Asahikawa
An artistic town, Asahikawa is the home of the Hokkaido Traditional Arts and Crafts Village. The village contains the Asahikawa Museum, which focuses on nature in, and the history of, Asahikawa and its vicinity, and the Snow Crystal Museum, whose theme is snow. There are many interesting exhibitions there and elsewhere in Asahikawa.
Soun-kyo Gorge/Mt. Daisetsu
Situated at the base of Mt. Daisetsu, called the "roof of Hokkaido," Soun-kyo Gorge is bordered by rugged, steep cliffs and has spectacular scenes of waterfalls and virgin forests. The Soun-kyo Onsen resort is in the middle of the valley and is an excellent example of a Hokkaido hot springs spa. Visitors can go up to the 7th station on Mt. Kurotake by ropeway and lift and enjoy a breathtaking view from there.

Noboribetsu
Noboribetsu is one of the main hot spring resort areas in Hokkaido. Plumes of volcanic gas and sprays of boiling water can be seen gushing out from Jigokudani, literally "hell valley" (a huge crater 450 meters in diameter and 110,000 square meters in area formed by a powerful eruption 200,000 years ago).

Lake Toya
Repeated volcanic activity caused subsidence in the ground, creating Lake Toya. The lake has four islands, and rare wildlife, including Ezo deer, inhabit Nakajima Island, one of the four.

Hakodate
Opened as a port at the end of the Edo Period and soon receiving the influence of foreign culture, Hakodate developed its own unique architecture and culture. The lively morning market in the city and the night view of the city from Mt. Hakodate are absolute must-sees for the tourist.

*Lake Toya's long-running fireworks display is held nightly from late April to late October.