EXPO and Kyushu
Kyushu is an area of the country that has long had contact with the world outside of Japan. With its port cities imbued with an international aura, its centers of pottery and ceramics, and other attractions, visitors to Kyushu can enjoy an exotic trip into another milieu of Japan.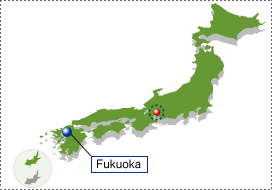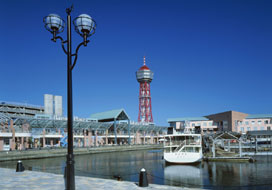 (A) EXPO → Fukuoka (1 hour and 15 minutes by plane) → Arita (around 2 hours by bus)/Imari (30 minutes by train) → Hakata → Nagasaki (2 hours by train; overnight stay) → Kumamoto (2 hours and 30 minutes by train) → Aso (1 hour by train) → Beppu (2 hours by train) → Yufuin (1 hour by train; overnight stay) → Beppu → Fukuoka (around 2 hours and 30 minutes by bus) (Total: 1 night, 2 days)
This course features visits to ceramic shops selling beautiful examples of Kyushu's ceramics to hunt for good buys. After viewing the magnificent scenery on Mt. Aso, travelers will also be able to enjoy a relaxing, fatigue-dispelling stay at a hot springs resort.
(B) EXPO → Fukuoka (1 hour and 15 minutes by plane) → Arita/Imari (30 minutes by train) → Hakata/Nagasaki (2 hours by train → Kagoshima (40 minutes by plane) → Nishi-Kagoshima/Ibusuki (1 hour and 20 minutes by train; overnight stay) → Nishi-Kagoshima → Kagoshima Airport/Yakushima (40 minutes by plane; overnight stay) → Kagoshima → Fukuoka (Total: 2 nights, 3 days)
A memorable destination of this tour of Kyushu that goes from Fukuoka to Kagoshima via Nagasaki and then back to Fukuoka is Yakushima Island, which with its very old "Jomon" cedar trees is designated as a World Heritage Property. These southern islands offer a completely different look from that found in Tokyo or Osaka, which travelers should greatly enjoy.
Arita / Imari
In Arita, which still retains an old-world flavor in its streets, there are many kilns that produce the fine white decorative porcelain called Arita-yaki . (Porcelain from Arita began to be exported to Europe from the 17th century; highly prized, this porcelain was known as Imari porcelain because it was shipped from Imari Port.) From April 29 to May 5, the Arita Ceramics Fair is held annually, and it attracts many admirers of Arita-yaki . With porcelain everywhere in sight in the city, the streets of Imari (famous for its production of exquisite porcelain called Nabeshima-yaki ) have the feeling of an art museum. In both Arita and Imari, there are museums holding rare and precious porcelain pieces.
Nagasaki
During Japan's isolationist period of sakoku (from the first half of the 17th century to after the middle of the 19th century), Nagasaki was Japan's only portal to the outside. There are many places of interest in Nagasaki such as Nagasaki Kyoryuchi (an area mainly populated by Dutch people in the Edo Period and which still has old Western-style buildings and stone pavements), Tojin Yashiki-ato (the former Chinese Quarter of the Edo Period, residences lived in by the Chinese and shrines for ancestor worship remain), and Uragami Church (a beautiful church of stained glass and red brick).


Tojin Yashiki-ato
Kumamoto
Kumamoto Castle is on a scale with the castles in Osaka and Nagoya. Suizenji Park in the city has a landscape Japanese garden that allows visitors to see the beauty of each passing season.


Kumamoto Castle
Aso
Mt. Aso has the world's largest caldera. There visitors can see some of the spectacular nature that is present in Japan because of the many volcanoes in the country.

Yufuin
Yufuin is a tranquil hot spring resort that is beautiful throughout the year and has many onsen "fans" both within Japan and abroad. A number of interesting art museums and galleries are located in the area.
Ibusuki
Ibusuki is famous for its "sand hot spring," where "bathers" are buried in hot sand. The view from Kaimondake, also known popularly as Satsuma Fuji (the Mount Fuji of Satsuma), is magnificent. (It requires around a three-hour climb to the top.)

Yakushima Island
Designated as a World Heritage Natural Property, Yakushima Island is covered with primeval forests that contain Jomon-sugi (extremely old cedar trees). The island is overflowing with nature at its dynamic best.


© K.P.T.F