EXPO and Okinawa
Set within the extraordinary natural beauty of the southern islands, Okinawa has also developed a vibrant culture of performing arts and crafts. Visitors can enjoy various marine sports while also imagining life there in the old Ryukyu Dynasty (beginning in the early 15th century and lasting for some 400 years).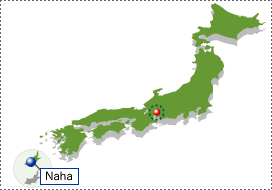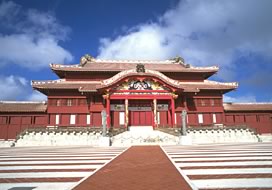 (A) EXPO → Okinawa (2 hours and 30 minutes by plane) → Shuri (around 40 minutes by bus) → Tamagusuku Village/Okinawa World, Gyokusendo (40 minutes by bus) → Naha (overnight stay) → Kume Island (35 minutes by plane; overnight stay) → Miyako Island (50 minutes by plane from Naha; overnight stay) → Ishigaki Island (1 hour by plane from Naha; overnight stay) → Naha → Tokyo (Total: 4 nights, 5 days)
This course goes not only to the main island of Okinawa but also to several other islands, allowing travelers to fully enjoy the lush beauty of the southern islands. We hope that travelers will visit as many of the Okinawan islands, which have such varied looks and appeal, as time permits and experience the deep attraction they hold. Another pleasure of the course is Okinawan cuisine, which is said to be the source of the Okinawan people's longevity.
Shuri
Shuri is a castle town situated in an elevated area on the eastern outskirts of Naha. There are many places of interest there, including the stone pavements of Kinjocho and Shiroyama Park.
Tamagusuku Village
This is an area where many Okinawan traditions and myths live on. With the remains ofgusuku (castles) scattered along the way, Gusuku Road has a mystical aura to it.


© Tamagusuku Village Office
Okinawa World, Gyokusendo
Centered around the vast Gyokusendo limestone cave, the Okinawa World is a theme park of Okinawa's attractions that is divided into ten zones, which include an industrial arts and craftwork village, a museum devoted to the history of the Ryukyu Kingdom, and anawamori (Okinawan spirits) distilling facility.


© Okinawa World
Kume Island
Kume Island has many of Okinawa's best and most popular beaches, including Ifu Beach and Hatenohama Sand Beach, which is known for its beautiful sunsets. At the Yuimaru-kan, the factory where a famous textile known asKumejima tsumugi is woven, visitors can see the weaving process and buy souvenirs.

Miyako Island
The shifting natural scenery at Sunayama Beach, where the fine snow-white sand stretches into sand dunes, is a scenic marvel. Miyako is also known for its traditional textiles such asjofu (hand-spun ramie) andhanaori (Okinawan cloth).
Ishigaki Island
The quite rare, even by world standards, blue coral (a mysterious coral that protects other species of coral such as giant cylindrical coral) grows in profusion here. Tourists can see these beautiful stretches of ocean bottom by glass boat. The Yaeyama Folk Garden (Yaeyama Minzoku-en), which introduces the distinctive culture of the Yaeyama region, including Ishigaki Island, is popular with people of all ages for its resort facilities that allow visitors to experience different aspects of Yaeyama culture.

* Accommodations are available on any of the islands.
* There are direct flights from Ishigaki and Miyako to Tokyo.
* Transportation between Ishigaki and Miyako can be by either plane or ship.