Naha
The unique Ryukyu culture in Okinawa was shaped by trade with China and contact with Yamato (ancient Japan). Recently the traditional foods and lifestyle of Okinawans have been receiving great interest because of their seeming linkage to longevity. While in January and February it is the dead of winter in most of the rest of Japan, the average temperature in Okinawa is 15-16 degrees (centigrade), and Okinawa has gained great popularity as a tropical resort area where marine sports can be enjoyed throughout the year. Okinawa has captivated many tourists, who are delighted by the region's brilliant flowers, mangrove forests, and other precious plants and vegetation and by the rare animals and tropical fish.
After the end of the Second World War, Okinawa, not being returned to Japan, was a territory of the United States for some time, and its capital Naha developed into a distinctive city with its traditional culture infused with a modern, Americanized culture. Visitors to Okinawa can now come into contact with the entirety of Okinawan culture, which includes the distinctive Okinawan cuisine and awamori , one type of shochu (distilled spirits), the special products and craftwork of the Kerama and Kume Islands and the Miyako and Yaeyama Islands, and much more.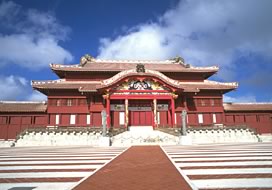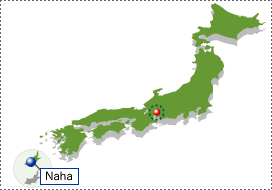 Places to see
Naha has attractions unlike those of any other area in Japan. It has numerous tourist and shopping spots that will surely delight the foreign visitor.
International Street
The main street in Naha, Kokusai-Dori (International Street) is a lively area with many department stores, clothing stores, restaurants, and souvenir stores.
Tsuboya
The Tsuboya district is the symbol and center of Okinawa pottery. The area has many direct sales outlets and galleries for pottery.
Shikinaen Park
Once a resort villa of the royal family of the Ryukyu dynasty, this is a beautiful garden park that stretches out over nearly 30,000 square meters. It has a very distinctive landscape garden that combines the look of an Edo-Period daimyo's garden with that of a Chinese-style garden. The palace overlooking the garden's pond has been registered as a UNESCO World Heritage Site.
Shurijo Castle Park
The style of the park gives visitors a very representative view of Okinawa. The remains of the Shurijo Castle have been designated as a UNESCO World Heritage Site.
Naha Traditional Craft Center
Visitors can see the process of Okinawan hand-dying at a studio there. Crafts from the dynastic period are displayed, and hand-dyed handkerchiefs, bingata purses, and other craft items can be purchased.
Recreation
Sea excursions
Visitors can take high-speed underwater sightseeing boats from Shirako (in Naha Port) and see coral reefs and tropical fish.
Diving
There are excellent spots for diving near beautiful coral reefs. (Diving boats leave from Naha Port; reservations can be made at diving shops in the city.)
Dining
The people of Okinawa are famed for their health and longevity. Everyone should try Okinawan foods and cooking methods, which are said to be a key to good health.
Local cuisine
Visitors can easily enjoy Okinawa's traditional local dishes using pork such as goyachanpuru (stir-fried bittermelon, tofu, and egg), mimiga (thinly sliced and boiled skin and meat of pig's ear, cucumber and other vegetables in a vinegary sauce), and rafuti (pork stewed in miso , awamori , soy sauce, and other flavorings) at the many restaurants and pubs in Naha.
Common foods
A variety of foodstuffs are available at the markets along International Street. At the restaurant row on the second floor of the First Makishi Public Market, visitors can have cooks prepare the fish or other items they bought at the market and enjoy these dishes there. This has proved a very popular way among tourists to enjoy Okinawan food.
Shopping
Okinawa's unique craftwork and folk art, shaped by the nature in Okinawa, make excellent souvenirs and gifts, as do Okinawan spirits (shochu ), which are enjoying a great boom throughout Japan now.
Craftwork
Craftwork like Ryukyu glass, Tuboya pottery, and lacquerware make memorable souvenirs.
Awamori
Awamori is a spirit distilled only from malted rice and using a black fungus (kuro-koji ) in the distilling process. It is said that awamori is effective as protection against arteriosclerosis and myocardial infarctions. Awamori aged ten years is especially prized for its taste.
Confections
Okinawa's traditional confections like kippan (sugared Okinawan-grown citrus fruit) and chinsuko (fried or baked cookies made from white sugar, lard, and flour) also make superb gifts.
Information
Tourist Information Office: (098) 868-4887 (English spoken)
Airport Information Desk: (098) 857-6884 (English spoken)