Fukuoka
Since long ago, Fukuoka has prospered from its trade with China and the Korean Peninsula, and today this port city has an international ambience. In addition to having many shrines—including Dazaifu Tenmangu Shrine—temples, and historical sites, Fukuoka is also the economic center of the Kyushu region, and its commercial districts are very active. On top of that, every season Fukuoka's rousing festivals engulf the city, and tourists from all over Japan throng to them.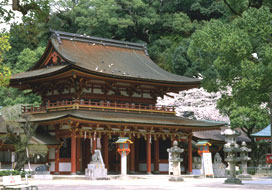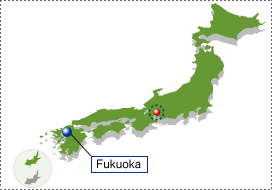 Places to see
Although the overall scale of Fukuoka City is certainly not very large, a very energetic spirit animates the city. Since it is geographically near to other Asian countries, signs in the city are also eye-catchingly written in Korean and Chinese.
Ohori Park
The park centers around a lake two kilometers in circumference, with jogging and walking paths around it for visitors. An art museum, a Japanese garden, and a Noh theater are also within the park grounds.
Fukuoka Castle Ruins
The vast grounds of these castle ruins have been turned into Maizuru Park. The stone walls and canal (the moat circling the castle) have been preserved, and the observation platform offers a splendid view of Hakata Bay (Fukuoka Bay).
Hakata Machiya Folk Museum
Focusing on life in the Meiji and Taisho Eras, the museum provides a good introduction with detailed three-dimensional models and video to the lifestyle and culture of Hakata.
Nokonoshima Island
This is a small island in Hakata Bay. In the northern part of the island there is a well-known tourist spot where various types of beautiful flowers bloom during each season.
Shrines and temples
Fukuoka has many historical shrines and temples like Kushida Shrine, Jotenji Temple, Tochoji Temple, and Dazaifu Tenmangu Shrine, where visitors can pray or appreciate the buildings and surroundings.
Festivals
The Hakata Dontaku Port Festival (May 3-4), which features a colorful parade through Fukuoka's streets, and the breath-taking Hakata Gion Yamakasa Festival (July 1-15) are the two big festivals in Fukuoka and they are always thronged with tourists.
Recreation
Waterfront area
Facing Hakata Bay and straddling the Naka River and the Hakata River, the waterfront area has a number of spots for taking cruises or engaging in marine sports. A modern recreational and commercial complex has been built up along the waterfront, offering visitors a variety of diversions such as bayside walks, shopping, dining, and even a dolphin show.
Dining
Visitors can look forward to enjoying local foods and cooking styles that can be found only in Fukuoka. Except for some very up-scale restaurants, most restaurants can be expected to serve fairly large portions at reasonable prices.
Mizutaki (water-simmered chicken stew)
Fukuoka is especially noted for this chicken hot pot dish. Mizutaki is based on a flavorful chicken broth and there are two types: clear broth and whitish broth.
Seafood
Fukuoka offers a variety of dishes using fresh seafood from the Genkainada Sea.
Food stalls
There are a lot of food stalls around the Nakasu and Tenjin areas. These stalls offer almost a bewildering variety of foods, ranging from ramen, yakitori, and oden to French cooking.
Ramen
The famous Hakata ramen features a whitish soup base made from a broth of boiled pork bones. There are many ramen shops in Fukuoka, all competing to offer the best taste. Even after finishing a bowl of ramen, customers can receive extra noodles at a small charge if they are still hungry. The free use of toppings like red pickled ginger (ginger pickled in red plum vinegar) and leaf mustard (vegetable with sharp-tasting leaves and stalk) provided on the table is another feature of Hakata ramen.
Shopping
Fukuoka's superbly created craftwork produced for practical daily use is particularly recommended.
Craftwork
Hakata pottery dolls (a traditional craft art going back some 400 years, Hakata dolls, with their charmingly human expressions and vivid colors, have garnered popularity overseas as well), Hakata textiles (traditional textiles first made over 750 years ago), and Hakata bent wooden wares, which give off a sweet scent of wood, (often used as containers for cooked rice, these bent magemono are thin sheets of cedar heat warped and then bound by cherry tree bark) are popular souvenirs.
Information/Tourist offices
Tourist Information Desk (JR Hakata Station): 8:00—20:00 (English spoken)
Tourist Information Desk (Fukuoka Airport): (092) 473-2518 (English spoken)
(Reservation Desk: (092) 483-7007; English spoken)
Rainbow Plaza: (092) 733-2220 (English spoken)