EXPO and Tokyo (and environs)
Tokyo is the capital of Japan, and numerous business districts with high-rise office buildings and commercial and entertainment areas with lines of stores and small businesses are spread out within a surprisingly vast area. At the center of Japanese history since the Meiji Restoration (1867), Tokyo is filled with a rich variety of attractions that combine the new face of Japan with the old. With its entertainment opportunities that have world-wide appeal and gourmet restaurants, Tokyo is an international city that we hope all visitors will enjoy.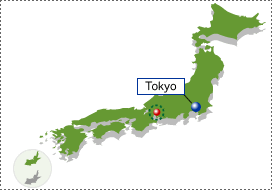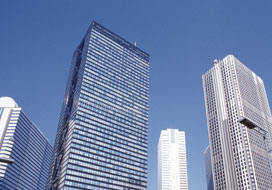 (A) EXPO → Tokyo (around 2 hours by Shinkansen) → Imperial Palace → Meiji Jingu Shrine → Ginza (Kabuki Theater) → location in the city (overnight stay) → Akihabara and Asakusa → Ryogoku (Edo-Tokyo Museum, Kokugikan Sumo Hall) → Ueno → Narita (around 1 hour by train) (Total: 1 night, 2 days)
With a course that includes Tokyo's most noted tourist spots, this tour will also delight visitors by introducing them to traditional Japanese performing arts and giving them an exciting look at the colorful atmosphere of Tokyo's old downtown areas.
Imperial Palace
Visitors can see historic sites such as the moat and stone walls surrounding the Palace and Niju-bashi Bridge. A walking and jogging course circles the Palace, and many seasonal flowers can be seen from it.

Meiji Jingu Shrine
Set in a lush, green forest, Meiji Shrine has several places of interest in its vast grounds, including the Gyoen (Inner Garden) and the Homotsuden (Treasure Repository). In June the blooming irises are a popular attraction. A walk in the nearby tree-filled Yoyogi Park is also a pleasure.

Ginza
Ginza is filled with department stores, brand-name boutiques, and old, established specialty stores. Performances of Kabuki plays (theater developed and perfected in the Edo Period) can be enjoyed year round at the Kabuki-za (a theater staging Kabuki plays) in Ginza.


Kabuki-za
Akihabara
Akihabara's Denki-gai ("Electric Town") is lined with stores selling all kinds of consumer electrical goods, from appliances to computers.

Ryogoku
The Edo-Tokyo Museum has life-size exhibits of scenes of the city, such as a theater playhouse, from the Edo Period. Sumo can be seen at the Kokugikan Sumo Hall if the tournaments, which are held there in January, May, and September, are underway. (Non-reserved, same-day tickets are available.)
*Sumida River fireworks display (end of July)


© Edo-Tokyo Museum
Ueno
Ameya Yokocho, which extends from Ueno to Okachimachi, is Japan's biggest discount shopping district. Shops selling foods, clothing, cosmetics, etc. are packed along the streets.

(Getting around by train or subway in Tokyo is very convenient.)
(B) EXPO → Tokyo (around 2 hours by Shinkansen) → Asakusa → Nikko (around 2 hours by train) → Toshogu Shrine (15 minutes by bus and around 10 minutes on foot) → Chuzenjiko Lake (around 50 minutes by bus) → Senjo-ga-hara Marsh (around 20 minutes by bus) → Nikko → Kinugawa Onsen resort (30 minutes by train; overnight stay) → Asakusa (2.5 hours by train) → Ueno → Narita (1 hour by train) (Total: 1 night, 2 days)
This course takes visitors to Nikko, which is very popular as a scenic area that can be easily reached from Tokyo, and also features a relaxing stay at the Kinugawa Hot Springs resort, where travelers can soak away the fatigue from their journeys.
Nikko Toshogu
The main hall of Toshogu Shrine was first built in 1617. With its brilliantly colored and intricate carvings and lavish use of gold leaf, the shrine is a concentrated example of architectural and carving techniques of the early Edo Period. This Nikko San'nai area, which also includes Rinnoji Temple, Gojunoto (Five-storied Pagoda), and Yomeimon Gate, is designated as a World Heritage Site.
Chuzenjiko Lake
The lake is reached after going up a winding road called "Irohazaka" (48 curves in total), a trip which allows visitors to enjoy beautiful views of changing scenery. The famous Kegon Falls (falling some 100 meters from a rugged cliff) are a ten-minute walk from the lake. Surrounded by mountains, the scenery of Chuzenjiko Lake changes beautifully with each passing season. Visitors can catch Kokanee salmon and rainbow trout in the lake or enjoy lake excursions.
Senjo-ga-hara Marsh
A veritable treasure trove of marsh flora, the profusion of alpine plants in summer is spectacular.
Kinugawa Onsen resort area
A number of large and small ryokan and hotels are located along the Kinugawa River, which flows through a beautiful valley and some stunning ravines and canyons.