JR / Shinkansen
JR (Japan Railways) / Shinkansen
Japan's railroad system is noted for its punctuality and safety. JR, Japan's leading railway company, has a complex and very efficiently managed railway network that covers the entire country. The Shinkansen high-speed "Bullet Trains," which have delighted not only Japanese passengers but also travelers from abroad with their speed and pleasurable ride, are Japan's world-famous super express trains. In approximately 15-minute intervals, these shinkansen trains run between Tokyo and other major cities in Japan. Passengers can purchase drinks of all kinds and box lunches (obento) from the food and drink service wagons that regularly pass through the train aisles, making for a very pleasant trip.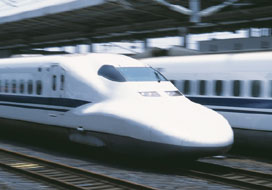 JR fares depend on the distance of the trip and the type of train and seat. Seats in the Green cars (first-class cars) and berths in sleeping cars require additional charges.
Tickets for relatively short distances can be purchased at the automatic ticket machines in each station, but tickets for long distances must be purchased at JR reservation ticket offices ("midori-no-madoguchi") located in larger stations.
R routes in the large urban areas of Tokyo and Osaka have a web-like coverage that connects downtown areas with the suburbs, and in addition, loop lines run at short intervals from early in the morning until late at night. Combined with the subways, this extensive railway network makes traveling very convenient.