Buses / taxis / rental cars
Buses
Numerous bus companies operate a variety of bus routes from major cities to small towns and villages. Bus fares vary according to the company, but in central urban areas the fares are normally around 200 yen. The fares for buses operating in suburban areas depend on the distance traveled, and the fares for the stops along the bus route are displayed at the front of the bus. Buses have only the driver, and a pre-recording announces the name of the next bus stop; to show that you want to get off at the next stop, just press one of the many signal buttons in the bus.
Long-distance buses providing connections between major cities run day and night, and for travelers who have the time, buses are a more economical means of transport than airplanes or trains.
Access to Aichi Prefecture (Nagoya)
Travel times for log-distance buses to major cities
| Departure | Destination (station name) | Time |
| --- | --- | --- |
| JR Tokyo Station | JR Nagoya Station | 6 hours |
| JR Shinjuku Station | JR Sendai Station | 5.5 hours |
| JR Tokyo Station | Kashima Shrine | 2 hours |
| JR Tokyo Station | JR Shizuoka Station | 3 hours |
| Tokyo: JR Shinjuku Station | Kyoto | 7 hours |
| Tokyo: JR Ikebukuro Station | Osaka: JR Umeda Station | 8 hours |
| Tokyo: JR Tokyo Station | JR Kobe Station | 9 hours |
| Tokyo: JR Shinjuku Station | Fukuoka: Nishitetsu Fukuoka | 14.5 hours |
Taxis
Taxis are widely used in cities, but in more remote areas they are mainly used for going to or from main stations or airports. There are a very great number of taxis in downtown areas, and passing taxis can be easily hailed. Taxi stands can be found in front of most JR and subway stations, and except for late at night, a taxi can be gotten without a very long wait. Since most taxi drivers do not speak or understand foreign languages, to prevent any mistakes, it is advisable to show the driver a piece of paper or a name card with the name and address of the destination written in Japanese on it. Taxis carrying no passengers and looking for fares will have a red light on behind the front windshield on the left side. The door for the back seat is automatic and operated by the driver.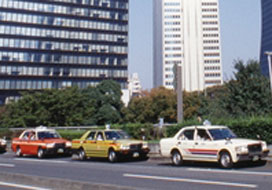 Rental Cars
Rental car offices are located near airports or major train stations, and foreign travelers can rent cars if they have an international driver's license. Since the type of car you want may not be available during busy periods, it is prudent to reserve the kind of car you want beforehand.
In Japan, cars drive on the left-hand side of the road. All expressways in Japan are toll roads. Traffic laws in Japan are very strictly enforced, and there are heavy fines for driving under the influence of alcohol or speeding. Cars parked in no-parking zones will also sometimes be towed away. Street and road maps written in English are not very common.