Information on Service Facilities
There are a number of service facilities within the venue to assist visitors. Please take advantage of these services in order to better enjoy the pavilions and events.
Information Desks
Information is provided to visitors. If there is something you wish to know, please do not hesitate to ask at an information desk.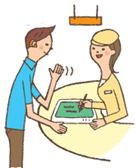 Major Services
* Providing information about the venue and surrounding area
Information on places of interest inside the venue
Information on pavilions and events
Information on service facilities
Information on transportation
Information on sightseeing, etc.
* Lost persons service / lost and found service
* Maps of venue provided (including barrier-free maps)
* Child ID tags provided
Notes
Staff members are available to provide information in foreign languages (English, Chinese, and Korean).
Magnifying glasses, reading glasses, and writing tablets are available for use inside this facility.
Guidance is available for visitors who are deaf or hard of hearing.