Indoor Rest Facility
This is an air-conditioned facility where visitors can rest temporarily.
Please visit a Rest Facility when you are tired, want to relax, or wish to escape heat or rain.
Main Services
Provision of space inside an air-conditioned facility
Provision of cribs (only in Global Common 4 and the Japanese Garden)
Provision of rooms with tatami (straw mats) (except in the Seto Area)
Provision of partitions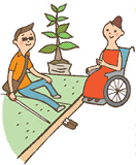 Notes
Staff are not always available in these facilities.
There are outdoor rest facilities as well, so please do not hesitate to use them.
Please allow others to use the facilities during busy times.