Satsuki and Mei's House
Location:
In the forest of the Nagakute Area
Overview:
A replica of the Kusakabe residence, a house of the 1950s in which the lead characters of Studio Ghibli's 1988 animated feature "My Neighbor Totoro" lived, will be built within the woods of the Expo site. It will be constructed using techniques of the early Showa era and will undergo artificial aging. The furnishings will also be made to reflect the movie as faithfully as possible. This pavilion, however, will not focus on amusement; the old-fashioned Japanese house itself is the highlight of this plan.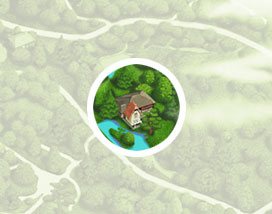 Visitors will be able to freely explore the house, looking inside closets and chests and touching things, just like the heroines Satsuki and Mei did when they first arrived at the house. In addition, programs will be offered in which visitors can get a taste of life in the mid-1950s to the mid-60s (the Showa 30s)--what might be considered the "slow life" of the good old days, when people lived closer to nature that they do today.
About admission
In consideration of the natural environment, the number of visitors per day is scheduled to be limited in the forest area where the house will be built. Admission to Satsuki and Mei's House will likewise be limited so as not to exceed this limit.
Admission to "Satsuki and Mei's House" at EXPO 2005 AICHI, JAPAN (in Japan)
Entrance applications to Satsuki and Mei's House for Foreign Visitors (by lottery)
Satsuki and Mei Home and Japanese garden - Guide to the peripheral course
Image of Satsuki and Mei's House
©1988 Nibariki · G/Tokuma Shoten
Layout of Satsuki and Mei's House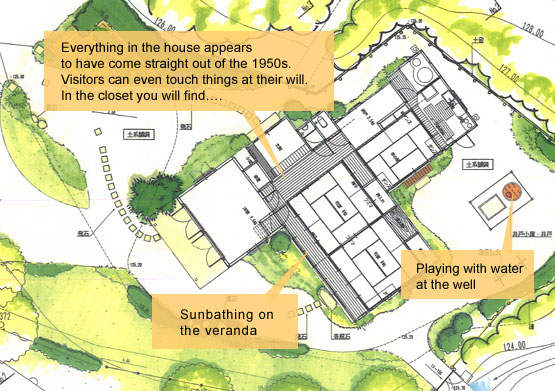 *The location of Satsuki and Mei's House may differ from what is shown in this image.
Presented by Tokuma Shoten Co., Ltd.
Distributed by Toho Co., Ltd.
Production by Studio Ghibli
Original Story, Screenplay and Direction by Hayao Miyazaki A 1988 feature-length animation production by director Hayao Miyazaki whose film "Spirited Away" won the 75th Academy Award for Best Feature Animation.
Set in the Japanese hilly countryside in the mid to late 1950s, the film vividly and humorously depicts the wonderfully strange experiences of a 6th grader Satsuki and her 4-year old sister when they encounter a magical creature "Totoro".

A feature-length animation studio with main directors Isao Takahata and Hayao Miyazaki.
The following are some of the major feature works produced by Ghibli:
"Castle in the Sky" (1986)
"My Neighbor Totoro" (1988)
"Grave of the Fireflies" (1988)
"Pompoko" (1994)
"Princess Mononoke" (1997)
"Spirited Away" (2001)
"Howl's Moving Castle" (scheduled for 2004 release)