Growing Village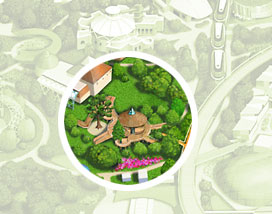 With "growth" as the core concept, the Growing Village will be developed with the aim of allowing lives in nature and love for nature to grow in diverse ways through interaction.
In order for us to learn from nature's wisdom and coexist with nature, the Growing Village will communicate the wonder and joy of nature through the lives of forests and trees. It will also provide visitors with the opportunity to perceive that active interaction and interchange between people and nature are what further enriches our lives.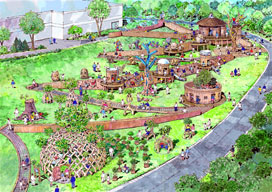 What we, caught up in our high-speed urban lifestyles, need to discover is the grand sense of time that nature possesses and its profundity. In order to do so, we will produce a space in which everyone can experience together the process of "cultivating, nurturing, and growing" through trees, which make up the life of the forest, and take ample time to create a forest that is filled with nature's wisdom. Furthermore, based on the concept of "growth," we will aim to make this forest a place that awakens us to new ways of living that are called for in the environmental century.

Experience Image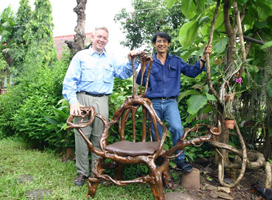 John & Nirandr Boonnetr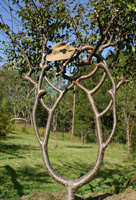 Peter Cook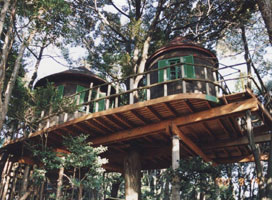 Growing Home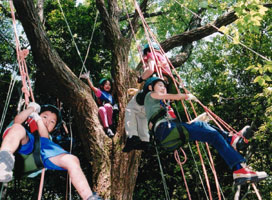 Tree Climbing
Objectives of "Growing"
To cultivate understanding of the lives of forests and trees
*We will offer opportunities for fun and new nature experiences that allow visitors to learn and sense the wonder of forests and trees.
*We will create forums for providing and exchanging information about Japan's precious trees and forests around the world.
*We will communicate the joy of forests and the preciousness of life, and cultivate understanding of nature.
To grow trees and cultivate nature-loving minds
*We will create a park area of wonderfully shaped trees known as "growing furniture" or "circus trees" and communicate their joy.
*We will demonstrate in tangible ways the wonders of the lives of these trees and the possibilities of the involvement of human creativity in them.
*Furthermore, by taking a try at growing these wonderful trees, visitors can enjoy the interchange between nature's wisdom and human ingenuity.
To cultivate new ways of enjoying the forest together with visitors
*Through tree climbing and workshops in the forest, participants will experience unconventional ways of enjoying the forest.
*By operating the program with the participation of visitors, we will learn, share and nurture new ways of enjoying the forest with larger numbers of visitors, and continue to make use of what is gained after the Expo.
Thematic Development of the Growing Village
*Global wisdom on life in the forest . . . Accessing information on forests around the world
*Forest wonder experience . . . Learning about the wonders of the forest through play
*Playing in the forest, climbing trees . . . Participating in and experiencing new ways of enjoying the forest