September
9/1
Global 100 Eco-Tech Awards
Commemorative symposium and awards ceremony
Seto Area opening hours
9:00-18:00 (for the duration of the Expo)
9/3
Eco-fashion show held
Fashions created by four globally active designers presented
9/4
Goodbye to the seven colors of Kiccoro
All-Star Show and Parade comes to an end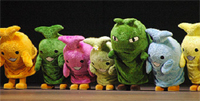 9/7
Typhoon No. 14 approaches
Braving warnings of strong winds, 13,860 wait for the Expo to open. Total attendance this day comes to 155,915.
9/10
One-day attendance breaks 250,000!
Some 30,000 people already waiting in line for the Expo when it opens at 8:25 am. The final count for the day is 250,694.
Final lecture given by philosopher Takeshi Umehara brings "21st Century Expo 2005 University" to a close.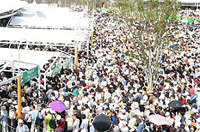 9/12
The World Intangible Cultural Heritage "Nogaku Theater"
Performance along with avant-garde artists realized at the Expo
Participation by five Living National Treasures, including Sensaku Shigeyama
9/13
Aichi Prefecture Week Part 2 begins
Theme of "Aichi in the Coming Global Era" (through September 19)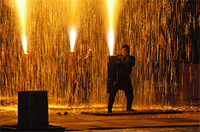 9/14
Friendship Film Festival
Documentaries on friendship are shown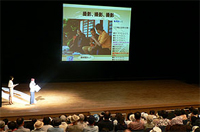 9/16
Over 20 million visitors
The 176th day of the Expo. With the goal of 15 million visitors achieved on August 18, attendance continues to grow at a fast pace.
9/18
Attendance temporarily restricted for the first time 280,000 visitors in a single day
As the venue capacity of 170,000 was greatly exceeded, entrance to the Expo was temporarily limited from 12:50 pm to after 6:00 pm.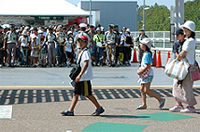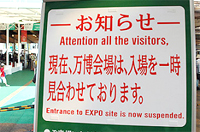 9/19
Shanghai Week begins (through September 25)
PR for the location of the 2010 Shanghai Expo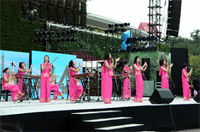 9/19
Second Round of Nature's Wisdom Awards
9/21
Closing Forum of the Expo 2005 International Forums: "Toward the Creation of Sustainable Society"
Expo Dome
9/22
Fifth Meeting of the International Council of Expo 2005
President Ole Philipson makes an announcement concerning the impressions of Expo 2005 and its future legacy expressed by council members. Philipson lauds Expo 2005, holding it up as a model for future world expositions, both in terms of thematic relevance and management.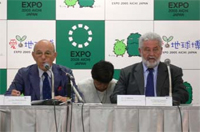 9/23
Aichi-Shanghai Joint Symposium
9/24
BIE Day held at Expo Hall
Special group-reading performance
Wishing for the success of the 2008 World
Exposition in Zaragoza and the 2010 World
Exposition in Shanghai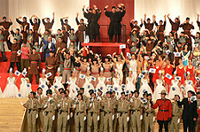 9/25
Crown Prince visits and attends Closing Ceremony
Closing Ceremony (Expo Dome)
Approx. 2,250 people attend. Honorary President the Crown Prince says that he hopes visitors will take their experiences with them around the world and that this will lead to a movement to address global issues. The BIE flag is passed to Shanghai, the host of the 2010 World Exposition.
Seto Area Grand Finale: "The Pulse of the Earth"
Grand Finale Farewell Party
Expo Plaza, each Global Common, NGO Global Village, and FM Love Earth
Final Ceremony
Morizo and Kiccoro's return to the forest
Flag lowering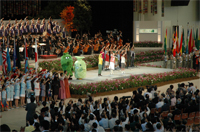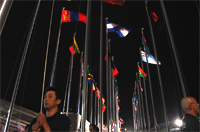 End of Expo 2005
Last day sees 244,052 visitors
Since the opening, a total of 22,049,544 visitors