July
7/1
Princess Takamado visits
A cooler Global Loop
Dry misting begins on the Global Loop for the summer months
Evening discount admission tickets go on sale in Nagoya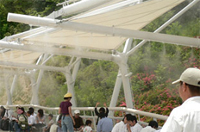 7/4
Number of visitors tops 10 million
The 102nd day of the Expo. 10 people selected by drawing receive certificates and commemorative goods; a company worker from Nagoya receives a special 2-carat diamond from the Republic of Sakha, Russian Federation.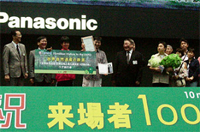 7/7
Bio-Lung is decorated for Japanese Tanabata festival
50,000 tanzaku are lit up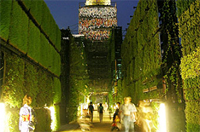 7/9
Princess Takamado visits
Global Peace Forum held
An appeal is made from Aichi for efforts to tackle urgent issues.
"Let's all work together to solve such urgent issues as discrimination, poverty, environmental protection, and global peace and protect the Earth!"
7/10
The Republic of Chad opens a booth, bringing the number of participating countries to 121.
7/11
The Emperor and Empress visit (through July 13)
The Emperor and Empress stay for three days beginning July 11 and inspect the Expo. On July 11, they visit the Swiss Pavilion, the German Pavilion, and the Egyptian Pavilion.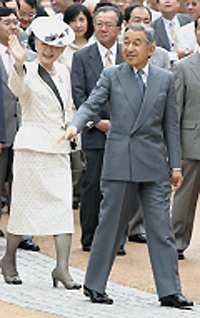 7/13
Veteran woman performers of takarazuka (song and dance) take the stage!
"Amour Takarazuka" is performed (through July 14)
7/16
Playing in the snow in the summer
A present from Hida City to the Expo for Nisshin City Day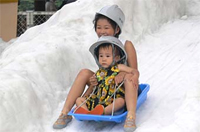 7/17
Over 210,000 visitors in a single day!
Long lines outside of the popular Hitachi Pavilion as soon as the Expo opens 215,976 visitors by the end of the day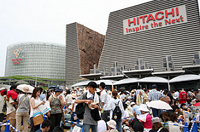 7/19
Environmental Impact Assessment Report for the 2005 World Exposition (forecast and evaluation) and Impact Assessment Report (monitoring survey) (fiscal 2004) released
7/20
Visit by Crown Prince and Crown Princess
Inspection of Earth Tower Nagoya City, Pavilion of the United Kingdom, and the Global House
Seto Area opening hours 9:00 - 19:00 (through August 31)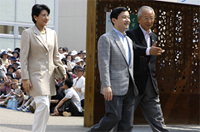 7/22
Performance by Yo-Yo Ma
World-famous cellist leads Silk Road Ensemble in performance (Expo Dome)
Visit by Ukrainian President Viktor Yushchenko
7/23
Visit by Princess Takamado (through July 24)
Theme Forum of the Expo 2005 International Forums for July: "Environmental Education for Realizing a Sustainable Society"
7/25
Visit by Prince and Princess Akishino and their daughters, Princess Mako and Princess Kako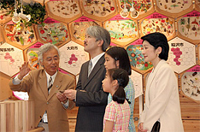 7/26
Visit by Prince and Princess Hitachi (through July 28)
Typhoon No. 7 approaches with no trouble at the venue
Fewer people at popular pavilions; a rainbow in the evening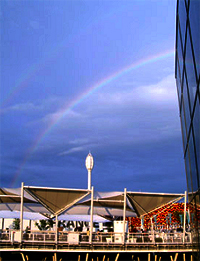 7/27
"Water-sprinkling (Uchimizu)" Campaign at Expo 2005
Expo Plaza and Seto Area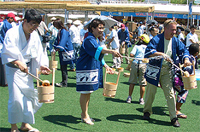 7/29
Expo All-Star Parade begins, lighting up the summer night
Massive crowds of people come to watch; the spectacle is later divided into shows and parades.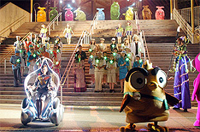 7/31
Princess Takamado visits
Sports Summit for the Environment in Expo 2005 (Expo Plaza and Seto Area)
Olympic medalists and the world's top athletes take part.