August
8/1
Princess Sayako visits the Expo (through August 3)
Shops selling official Expo merchandise increased
Morizo and Kiccoro goods wildly popular
8/2
Prince Tomohito of Mikasa and his daughter Princess Akiko visit
Attend Turkey's National Day Celebration
8/7
World Cosplay Summit 2005 held (Expo Dome)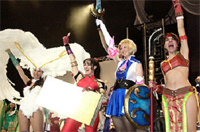 8/8
Peace Ring 2005: Everyone makes a ring of peace. Some 3,500 people join hands to pray for peace
Nagoya Week begins (through August 14)
A special Expo version of the Middle of Japan Festival, a summer rite in Nagoya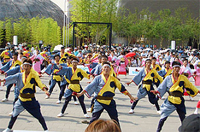 8/18
Goal of 15 million visitors reached!
The 147th day of the Expo. With 38 days remaining, an event is held marking the already accomplished goal of 15 million visitors. A total of 15 prizes worth 5 million, including a Toyota hybrid car, a robot-shaped harbor seal, and a plasma TV, are awarded via drawing.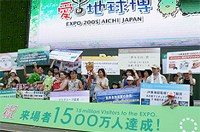 8/22
Expo All-Star Parade 2 restarted
This night event that started on July 29 was suspended after August 2 for security problems. The shows restarted on August 8, but not the parade.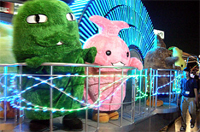 8/25
Crown Prince visits (through August 26)
One day before his visit on August 25, he attended the Youth Agricultural Exchange Event in Aichi Prefecture.
This is his fourth visit to the Expo.
As Typhoon No. 11 approaches, precautionary measures are taken, and some evening events cancelled.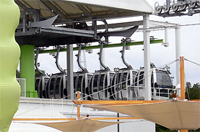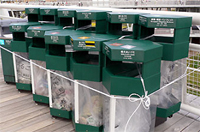 8/27
Princess Takamado visits
Theme Forum of the Expo 2005 International Forums for August: "International Symposium on Climate Change: Economic and Industrial Development in Harmony with the Environment"