Revival of Musical Masterpiece "OKUNI"
- "EXPO 2005 Aichi" Exclusive Special Live Version in the Works -
The "EXPO 2005 Aichi" world exposition will open on March 25, 2005 in the hilly areas east of Nagoya (sites located in Nagakute Town, Toyota City and Seto City), for a 185-day run under the keynote theme of "Nature's Wisdom."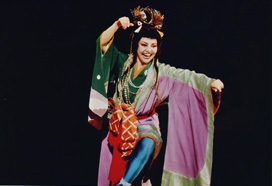 Nana Kinomi
We are pleased to announce that the decision has been made on a general plan to present a version of the widely acclaimed musical "LIVE! OKUNI" as a special event planned by the Expo planning association. The production will feature top actress and entertainer Nana Kinomi, who has excelled in the role of Okuni for well over a decade, with the music provided by the popular band Shang Shang Typhoon.
The Japan Association for the 2005 World Exposition is planning a wide range of special events for the Expo, to be advanced under the guiding concept of "Bringing the World Together at Aichi." This is viewed as an important pillar of expression for the keynote Expo theme, and will be positioned to rank alongside the pavilions and other on-site attractions as strong crowd draws. "LIVE! OKUNI" is envisioned as one such creative and attention-gathering event.

Shang Shang Typhoon
"OKUNI" was first staged back in 1990, and has been revived a number of times over the years since. As an original Japanese musical masterpiece, it has earned rave reviews from critics and audiences near and far. At EXPO 2005 Aichi, the production will be performed on the jumbo-size stage at EXPO Dome, in a special new "LIVE! OKUNI" arranged exclusively for this historic exposition.
The setting for the story is the dawn of the Edo Period of Japanese history in the turbulent times of the early 17th century. Against this backdrop, the Okuni Dance Troupe emerges at the base of a large bridge spanning the Kamo River in the ancient capital city of Kyoto. The troupe, led by Okuni (Nana Kinomi), has perfected mysterious and incredible dancing techniques that mesmerize the masses. The musical spins the tale of Okuni's rise to fame and glory, the ensuing discord with the people of power in that era, and then the debut of a "second-generation Okuni" bankrolled by big money behind the scenes. The story moves toward its poignant conclusion as the original Okuni is gradually forgotten by fickle audiences, and fades from the limelight. At the Expo, this powerful and moving story will be presented in a 70-minute concert style version, mixing in visual effects while maintaining the key focus on spellbinding song and dance skills.
The music of Shang Shang Typhoon is a vigorous, multi-ethnic style that draws from the essence of Japanese folk and popular music, along with rock, soul and various other genres. Overall, it closely resembles the lively and upbeat tempo of festival music and rhythms. Appearing as an ensemble, meanwhile, will be the Nippon Domannaka Matsuri (Heart of Japan Festival) dancers, a flamboyant dancing group that is particularly active every summer around the Nagoya area hosting the Aichi Expo. The scorching mix of this dance and music will be mobilized to showcase the story of OKUNI with unprecedented scale and flamboyance.
This special live concert style version of this popular musical, bringing together the Okuni dance troupe and local dancers, promises to generate grand "festival space" embodying the guiding Expo concept of "Bringing the World Together at Aichi."