EXPO 2005 AICHI Opening Kabuki Dance Festival
Boshibari "Dancing while tied"
Cast
Jiro-kaja
Nakamura Kanjaku
Taro-kaja
Nakamura Kikaku
Sone Matsubei (lord)
Arashi Kitsusaburo
Accompaniment
Nagauta Music Group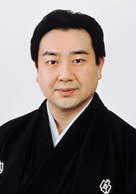 Digest
Along with Migawari Zazen, this dance drama is one of the most important works of dramatized kyogen in the Taisho era (1912-1926). Unlike other dances, this dance requires special skill from the performers, because their hands are tied with cords. In Japanese dances the hands are regarded as a most important and indispensable element. Therefore it is interesting to watch how the two performers manage to overcome this handicap.
A daimyo is about to go out. But he fears that a pair of retainers may use this chance to help themselves to his sake. Therefore, he tricks them into allowing him to bind their hands. Sure enough, while their boss is out, these two men, Taro-kaja and Jiro-kaja, try every means at their disposal to open the storeroom in which the sake is kept until, at last, they finally succeed in their attempt.
As they drink more and more sake, they become both bolder and merrier. At last they begin to dance. It is at this point that the daimyo comes back just in time to see a scene of unparalleled debauchery. As his anger rises to a climax, he threatens to give them a good thrashing. The two drunks are undeterred, however, and defy him to chase them out.
HANABUSA SHUJAKU JISHI "Dance of a Legendary Lion"
Cast
Princess and Legendary Lion (double characters in a performer)
Nakamura Ganjiro
Accompaniment
Nagauta Music Group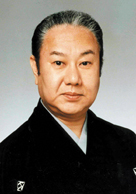 Digest
This dance was first performed by Nakamura Tomijuro I in 1754. It created a sensation as a masterpiece of a Shakkyo style dance which is based on famous Noh play "Shakkyo". It means the bridge between this world and Buddhist Land. The dance deals with a shishi or an ancient Chinese legendary lion that was believed to be a guard of Buddha. This time it is performed by Nakamura Ganjiro III who has a title of Living National Treasure and is going to succeed to Sakata Tojuro IV, a great stage name, that is equal to Ichikawa Danjuro I.
The dance starts at a grand hall in a lord's palace, where a princess is dozing, leaning on an armrest. There come butterflies and cause her to wake up. As she plays with them, she is gradually tempted into doing something, and begins to feel like dancing. She dances gracefully with yearning for slightly bitter love. Before long she takes two tiny lion's heads.
Then she becomes more and more absorbed in the dancing. Finally she loses control of herself as the lions' heads take over her. She is pulled off the stage by the spirit of the lion. There follows an interlude in which young page-girls perform merrily sometimes with drams and sometimes with other instruments. After they have gone the music becomes intensively restless. After a while the princess reappears, but this time in completely another identity. It is no longer a princess. She is now a personified spirit of the lion. It dances dynamically in Shishi no Kurui Manner which depicts the state that a legendary lion plays around frantically. The highlight of this dance is the stark contrast between the princess's graceful dance and wild dancing of the lion's spirit, both performed by the same actor.