In the Evening at Koi Pond
The Koi Pond is located next to the Global House. A tranquil pond filled with multicolored carp, it will be a wonderful area for visitors to relax during their travels around the EXPO site. Each night at 8 p.m. for about 30 minutes, the Koi Pond itself will become a major attraction as the scene for an experimental theater event featuring the interaction between nature and humans. Choreographed with impact and beauty by world-renowned artist Robert Wilson, it will captivate all and communicate a message of hope and happiness for the future.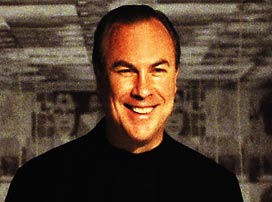 Robert Wilson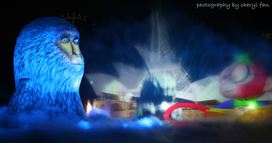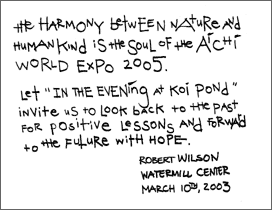 Main works
| | |
| --- | --- |
| | |
| Madame Butterfly | mystre |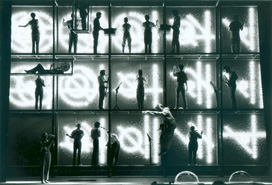 Robert Wilson Profile
The New York Times described Robert Wilson as "a towering figure in the world of experimental theater." Wilson's work integrates a wide range of artistic impression, combining such aspects as movement, dance, pictures, lighting, furniture design, sculpture, music, and playwriting in one production.
Wilson was born in Waco, Texas, and educated at Texas University and Brooklyn's Pratt Institute. He became a leading figure in Manhattan's avant-garde theater scene in the latter half of the 1960s. His work with composer Philip Glass, Einstein on the Beach (1976), attracted worldwide acclaim and transformed established perceptions of opera's artistic composition.
Wilson's visual images are fiercely aesthetic and filled with emotion, and have garnered high praise from both audiences and critics around the world. Among the awards and accolades he has received are a Pulitzer Prize nomination (1986), the Golden Lion for Sculpture of the Venice Biennale, election to the American Academy of Arts and Letters (2000), and the National Design Award for Lifetime Achievement (2001) from the Smithsonian Institution, which was awarded to him at the White House in 2002. Wilson is truly a leading figure of artistic culture.
Wilson's original works and interpretations of standard operatic repertoire have been produced on stages throughout the world. These include Salome at La Scala in Milan (1987), The Magic Flute (1991), and Madame Butterfly (1993) at the Opera National de Paris, and recently, the completion of the Wagner Ring cycle at the Opernhaus Zurich (2002), which is also scheduled to be performed in Paris in 2005.
Wilson's artwork has been displayed at museums and galleries around the world. Major exhibitions have been staged at the Centre Georges Pompidou in Paris and the Museum of Fine Arts, Boston.
New theater works are developed each summer at the Watermill Center, located on eastern Long Island. This multi-disciplinary arts laboratory provides a forum for students and experienced professionals to collaborate on creative projects. Currently construction is underway to renovate and expand the Center.