The World Intangible Cultural Heritage "Nogaku Theater"
Crossing 1,000 Years in Time and Space
The Japan Association for the 2005 World Exposition, Nihon Nogakkai, Association for Japanese Noh Plays, and Chunichi Shimbun will present a spectacular performance of Noh and kyogen on September 12, 2005, in the EXPO Dome at EXPO 2005 AICHI, JAPAN. These traditional Japanese performing arts are the world's oldest extant professional theater and have been designated a World Intangible Cultural Heritage by UNESCO.
Noh and kyogen combine song, dance, and other aspects in an art form that has been passed down since the Muromachi period (1333-1573). In it may also be seen the roots of other major traditional performing arts in Japan, including kabuki and bunraku. It is considered by many to be a distillation of various aspects of Japanese nature, culture, and spirit. Today there are five schools for the leading character, or shite, in Noh (Kanze, Konparu, Hosho, Kongo, and Kita) and two schools of kyogen (Okura and Izumi), which continue to pass on their refined art and technique for future generations.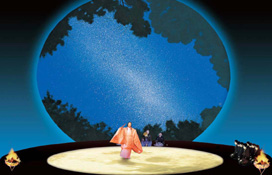 Hagoromo
The EXPO 2005 performance will be an all-star extravaganza of the top performers in the world of Noh and kyogen today, with the head or a comparable representative of the five schools of Noh and two schools of kyogen all performing on the EXPO 2005 stage. The outstanding lineup will consist of some 100 performers (including four Living National Treasures), making this one-day performance like nothing seen before. The program is sure to delight Noh enthusiasts and first-time viewers alike.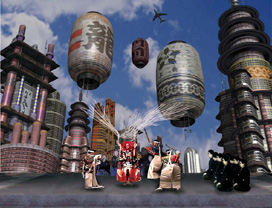 Tsuchigumo
This event has also gained the support of three internationally acclaimed artists, who will cooperate in the stage production. Hiroshi Senju, a Japanese-style painter now living in the United States, will produce a magnificent stage backdrop based on Waterfall and other of his major works. Avant-garde artist Ushio Shinohara and Nagoya-born computer-graphics artist Satoshi Kitahara will also provide works to create various stage settings.
The title of the performance, "Nogaku Theater," was derived from the various metaphoric meanings given to the word "flower" in the treatise Fushi Kaden (The Transmission of the Flower and Acting Style) by early Muromachi period performer, playwright, and theorist Zeami. It was Zeami who laid the foundations for Noh. The tradition of Noh and kyogen has now been passed down for 600 years. The subtitle, "Crossing 1,000 Years in Time and Space," comes from the idea of placing this tradition on a timeline spanning 1,000 years, through the creation of a forward-looking stage space.
EXPO 2005 AICHI, JAPAN is being held under the theme Nature's Wisdom. Noh and kyogen have come down to us with close links to Japan's climate and nature and may be considered a crystallization of "nature's wisdom" in Japan. These arts developed from sarugaku and dengaku, performances at festivals to pray to the god of the harvest, and were originally an essential element of ritual. The introduction of contemporary art and advanced technology into the simple, clean world of Noh and kyogen will create a spectacular, luminous, and uniquely Japanese attraction for EXPO 2005.
Title
World Intangible Cultural Heritage "Nogaku Theater"- Crossing 1,000 Years in Time and Space
Plan
Noh and kyogen are the world's oldest stage performances, with a history of over 600 years. It is said that the roots of kabuki, bunraku, and other traditional Japanese performing arts lie in Noh and kyogen, and these art forms that have absorbed and passed on the culture and spirit of the Japanese over time will be featured in a special event at the EXPO 2005 venue that aims to share Japanese culture with the world.
In the type of event that could only be held at a World Exposition, a stage will be created combining modern art and the latest digital technology. While looking back at the 600-year history of Noh and kyogen, new possibilities for these art forms will be explored in a performance that will provide a glimpse of the future.
Time and date
Monday, September 12, 2005
Performance begins at 14:00 and will last until 19:30.

Location
EXPO Dome (holds 3,000)
Sponsors
Japan Association for the 2005 World Exposition, Nihon Nogaku-kai, Association for Japanese Noh Plays, and the Chunichi Shimbun
Major performers and performances (in parentheses) / Lead characters
Kiyokazu Kanze: 26th head of the Kanze School ("Funabenkei")
Yasuaki Konparu: Konparu School ("Tamura")
Fusateru Hosho: 19th head of the Hosho School ("Takasago")
Hisanori Kongo: 26th head of the Kongo School ("Tsuchigumo")
Akiyo Tomoeda: Kita School ("Hagoromo")

Kyogen performers
Sensaku Shigeyama: Okura School and a Living National Treasure ("Utsubozaru")
Mansaku Nomura: Izumi School ("Higeyagura")

Supporting performer
Kan Hosho: 12th head of the Shimogakari Hosho School and a Living National Treasure
Orchestra
Ryokuryobyoe Fujita: 11th head of the Fujita School (Flute)
Tadao Kamei: Kadono School (Drum) and a Living National Treasure
Soemon Konparu: 22nd head of the Konparu School (drum) and a Living National Treasure

Direction and organization
Ryokuryobyoe Fujita: 11th head of the Fujita School (Flute)
Art director
Hiroshi Senju (Japanese-style painter)
Participating artists
Ushio Shinohara: avant-garde artist
Satoshi Kitahara: computer-graphics artist
The contents of the program are subject to change.