TDC - Théâtre de la Dame de Coeur
Filling stages with creativity using giant puppets, images, and music
TDC, founded in 1975, is headquartered on spacious grounds in Upton, Quebec. It creates dream-filled worlds in which humans perform together with gigantic, originally developed puppets. TDC researches theatrical techniques for special environments and develops unique technologies to produce large-scale, spectacular shows in a wide variety of venues both indoors and outdoors.
As a result of the worldwide acclaim TDC has won with its original and expressive theatre technology, it is increasingly a partner at international events requiring unique and original works. One recent collaboration was the opening of Singapore's Esplanade Theatres on the Bay, the largest theatre in the Far East (2002).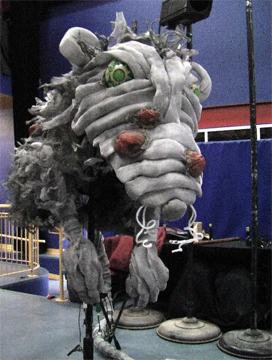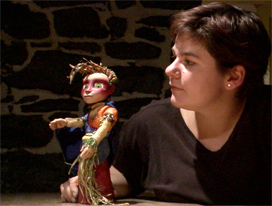 What really makes TDC shows unique are giant puppets, created with TDC's own technology. TDC puppeteers must first acquire the technical skill to manipulate the puppets' complex internal workings and functions. Then they synchronize the puppets' movements with images and music to create a unique theatre experience.
At TDC, skilled craftspeople of all trades work as a team to promote a convergence of the imaginary and the physical. Welders, costume makers, sculptors, carpenters, electricians, pneumatic hydraulics engineering technicians moulders, painters, etc. have, over the last 25 years, brought to life characters that have drawn tens of thousands of spectators into fantastic adventures.
TDC's rich imagination and technological innovation have given it a repertoire of effects for the stage that no other company can equal. These include:
Harness techniques to achieve human movement with large marionettes or huge tableaux such as moving frescoes
Puppeteering techniques for oversized puppets with complex mechanisms that can be mounted on a lift truck or a truck with an articulated hydraulic arm
Aerial puppeteering techniques based on circus technology
Integration of audiovisual components into puppets
Computer-controlled puppet-display screens
In its constant quest to surprise and amaze, TDC overlays its creative approach with original allegorical concepts to evoke larger-than-life images.
Profiles
Akira Ishigaki-Producer, Original Story
Akira Ishigaki started his independent career after working as founder and marketing manager at Ticket Pia, and as Director of the Pia Film Festival. He has since produced numerous events including the Shitamachi Drama Festival, the Harumi Drama Festival, the Millennium Cultural Arts Festival, and the 2001 Miyagi Sports Days. He has co-produced foreign shows including A Chorus Line, Tango Argentino, and the New York City Ballet. As well, he has produced plays, movies, and concerts including Shutoff and Transit in the Akagi Maro series and A Touch of Fever directed by Ryosuke Hachiguchi. He serves as general director of the art fair he founded in 1995, and is in charge of the Agency for Cultural Affairs' International Showcase.
Richard Blackburn-Art Director, Stage Director
Richard Blackburn has been the highly dynamic and creative artistic director of TDC for 30 years. A master at staging grand metaphors and meaningful allegories, his talent has been recognized around the world.
Rene Charbonneau-TDC Producer
For 30 years, Rene Charbonneau has been the very able conductor of TDC's two production shops and is directly involved in all aspects of the creative process. He not only produces TDC's shows, but also leads the diversified teams of both workshops.
Takeshi Yasufku-Voice of Shin and the old man in the country of wasters
Takeshi Yasufuku, who he began acting at the age of ten, has appeared in TBS' Mr. Kinpachi's 9th-grade class and NHK's Great River (historical drama series). He passed the Shiki Theatre Company audition while still a voice major at Kunitachi College of Music. After graduation in 1995, he appeared in Shiki productions of Phantom of the Opera (Joseph Buquet), Evita, and Lion King (Timon). Since retiring from the company in 2004 he has been active as an opera performer, event host, and recording artist.
Shinobu Aikawa--Narrator, voice of Aki
Born in Nagano Prefecture, Shinobu Aikawa started as a classic ballerina with Nagano Ballet Company at the age of six. In 1990 she joined Shiki Theatre Company, where she appeared in Cats, Phantom of the Opera, West Side Story, Yuta and His Amazing Companions (Sayoko), and other productions. She has been a free lance artist since leaving the company in 2003. She will appear in Annie in 2005.
Credits
Producer, Original story:
Akira Ishigaki
Art Direction, Stage Direction:
Richard Blackburn
Script :
Richard Blackburn
Rene Charbonneau
Yves SIMARD
Maryse Pelletier
Sylvain Gagnon
Akira Ishigaki
Hanako Horiuchi
Taiji Fukui
Machiko Yamashita
Kumiko Yoshiyama

Dialogues and lyrics :
Maryse Pelletier
Direction of production :
Rene Charbonneau
Translation :
Hanako Horiuchi
Marionette design:
Marie-Pierre Simard
Anne St-Denis
Marie-Agnes Reeves
Valérie Giard
Amélie Monplaisir
Music:
Alain Blais
Video images:
Yoakim Bélanger
Lighting:
Michel St-Amand
Computer graphics (Shin and Aki's eyes):
| | |
| --- | --- |
| | Zabelle Coté |
| Technical Advisor | Taiji Fukui |
| Stage Manager | Nobuo Fukami |
| Lighting Advisor | Mitsuhiro Toya |
| Sound Advisor | Kiyoshi Ando |
| Production Management | Machiko Yamashita |
| Production Management | Kumiko Yoshiyama |
Puppeteers:
| | |
| --- | --- |
| | Michael Brunet |
| | Mélanie Desjardins |
| | Sylvain Gagnon |
| | Marc-André Roy |
| | Yves Simard |
| | Isabelle Thivierge |
| | Martin Vaillancourt |
| Casting of Canadian voices | Alain Gendreau |
| Canadian voices | Alain Gendreau |
| | Stephane Rivard |
| | Marie-Noël Mainguy |
| | Johanne Garneau |
| Japanese voices | Takeshi Yasufuku |
| | (Shin, the old man in the country of wasters) |
| | Shinobu Aikawa(Narrator, Aki) |
| Workshops | Takeshi Yasufuku |
| | Sayaka Iwai |