Argentina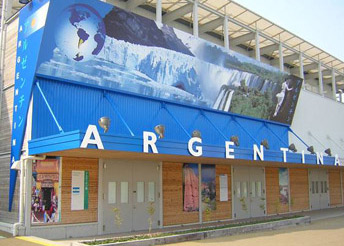 Official name
Argentine Republic
National Day
07.11.2005 (Mon)
Theme / Exhibition
"The Power of Nature and Nature in People"
Sharing the compromise towards global harmony, the Republic of Argentina is present at Expo 2005, Aichi Japan, highlighting it's "Nature's Force" that speaks through their people, and therefore through its arts, gastronomy, sports, education and production .

Inmensity is the essence concept of our country, showed at the pavilion through a film that communicates the interface that has given rise to Argentina's ethnic and geographic diversity. There it's our nature who speaks through the sounds of the jungle and of the waterfalls, in the colors of our handcrafts and our hills, in our city music and in the music of festivals held in the northern provinces as also at the tremble of glaciers break's sound further south.

As well as Tango dance express the passion of our people also represented at our pavilion with 11 tango show performed every day since 10.00 am and then every sharp hour untill 20.00 hs.

Please visit our pavilion, where we'll be delighted to share and to transmit you the uniqueness of our country.


Food / Drink
Parties are also held to taste mate tea loved by cowboys called gaucho and various brands of wine, which have gained high evaluation recently.
Goods
The name of Argentina was derived from silver in Latin. Exhibited are silver work and other traditional artifacts such as leatherwork and textile products.