Saudi Arabia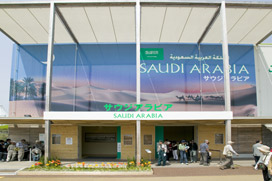 Official name
Kingdom of Saudi Arabia
National Day
09.09.2005 (Fri)
Participant WEB site:
Theme / Exhibition
Many Japanese may have the preoccupation that Islam is the "culture of a distant desert." But through exhibitions with the theme of "wisdom, harmony and hope," Saudi Arabia hopes visitors will feel the wisdom of Islamic culture about the natural environment and deepen understanding about Islam.
The first display incorporates an "imaginary urban environment" composed of buildings from various areas in Saudi Arabia, lifestyle culture and wisdom evident in the lifestyle of the people in desert. The next display introduces the history of creation of Saudi Arabia and industrial development based on petrochemicals. The last display showcases the efforts and achievements of various Saudi Arabians working around the world in diverse fields.
The large and visually arresting image of Mecca and Medina displayed inside the pavilion serves as a symbolic reminder that the past, present and future of Saudi Arabia have been, are and will be molded by teachings and guidance of Islam. A large circular visual display provides the backdrop for a dramatic presentation of the magnificent natural heritage of the Arabian Peninsula stretching back to the prehistoric era.
Moreover, 2005 marks the 50th anniversary of the establishment of diplomatic relations between Saudi Arabia and Japan. Taking advantage of the opportunity, Saudi Arabia will strive to make the bilateral ties even stronger and promote greater mutual understanding.