Japanese Garden Overview
Features of the Japanese Garden
The garden enables visitors to observe different aspects and facets of water, making use of Kaede pond, Medaka pond and other geographical and water features.
By comparing variations of the landscape along the river running east-west to the passage of time in the manufacturing process from stone and soil to pottery, this new approach to garden design symbolizes the climate and culture of Aichi based on the craftsmanship from past to present.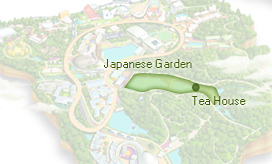 Name of the Teahouse
Kanare-tei: Named because it is located at the head of the Kanare River.
Features
Borrowing motifs from traditional folk dwelling houses of several decades ago, this teahouse is built of reinforced concrete with some structural steel, while its interior is made of timber. The facility has a small tearoom, two 13-square-meter Japanese rooms, and a 20-seat ryurei room for serving tea using tables and chairs.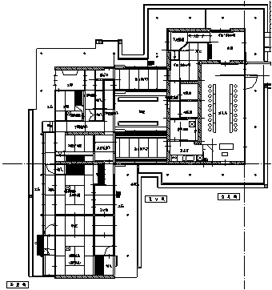 Teahouse Layout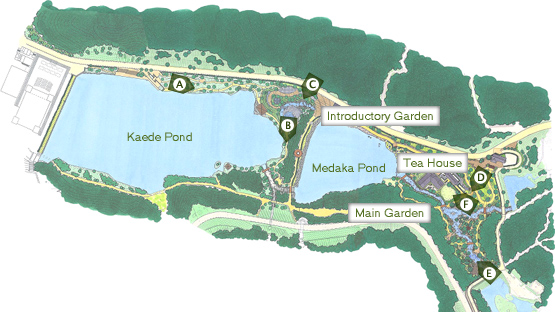 Profile of the Japanese Garden
(1) This is a new type of garden adopting traditional and modern methods in technology and construction.
(2) The area is about 7 hectares (including about 3 hectares of water surface.)
(3) The garden mainly comprises garden paths around Kaede pond, the introductory garden, the teahouse upstream from Medaka pond, and the main garden.
(4) The entrance from the AICHI PAVILION is a corridor of water and trees including the waterfront terrace with a majestic view of the small lake and promenades excellent for walking, especially in autumn when the deciduous trees are a riot of color.
(5) The introductory garden offers attractive natural and artificial details from a dynamic design of water running down the falls to reach the swirling structure to dexterous use of tiles.
(6) The main garden is a quiet garden having streams and ponds with the surrounding hills as its background and, while having the teahouse as its core, seeks a new approach to garden design by deploying harmoniously arranged rocks and garden bridges.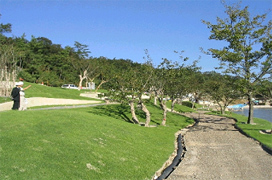 A. Toward the introductory garden from the narrow garden path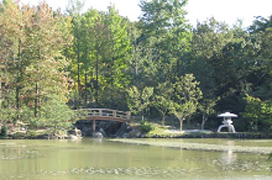 B. Introductory Garden (Toward the southern watercourse)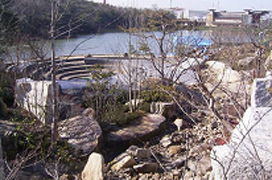 C. Introductory Garden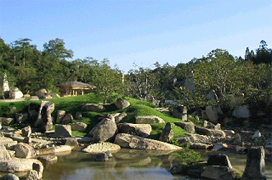 D. Main Garden (Toward the southeast from the Teahouse area)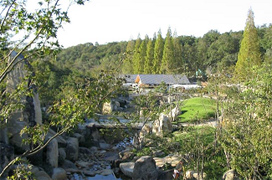 E. Main Garden (Toward the Teahouse)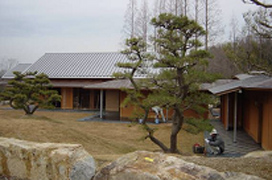 F. Teahouse and nagayamon (gatehouse)