EXPO Plaza - Document
Installation of EXPO Vision, the large-screen video system
The system will flash live footage of events taking place on the EXPO Plaza stage on EXPO Vision, a high-definition 840-inch screen with an aspect ratio of 8:3 (Astrovision, supplied by Matsushita Electric Industrial).
EXPO Vision will be the first open-air large-screen system built to high-definition specifications. Its combination of a system for video production up to broadcasting standards and the pro-audio technology RAMSA will assure the sophisticated levels of picture and audio quality needed for the creation of a high-grade live space. Its capabilities for simultaneous display of image and character data as well as for flashing 4:3 images on two (split) screens will guarantee a high degree of freedom in show presentations. Furthermore, the system will be able to automatically transmit video software produced in advance in the course of the program.
Image contents
1) "The Animals' Promise"
This will be a musical fantasy with a cast of animals that take action to protect the global environment. The high-definition images flashed on the super-wide screen will tell a story that underscores the preciousness of nature and delights both children and adults.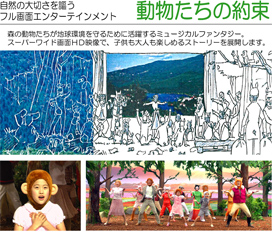 "The Animals' Promise"
2) "KID WITNESS NEWS"
KID WITNESS NEWS (KWN) is a program that has been promoted by Matsushita Electric Industrial for support of children's education since 1988. Under it, the company lends video equipment to primary and middle schools to assist their production of video works. For EXPO 2005, Matsushita Electric Industrial is also sponsoring a special contest for works revolving around the themes of the environment and interchange. The winning entries from countries around the world will be shown on EXPO Vision.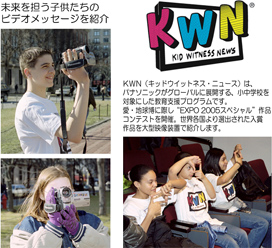 "KID WITNESS NEWS"
"EXPO Plaza Scope"
Installed in EXPO Plaza, EXPO Plaza Scope will project a universe that is a hybrid of virtual and real worlds, inhabited by mammoths, whales, and other characters. It will be an attraction that gives Plaza visitors an entertaining taste of the digital image technology of the future.
This CG is a model prepared for the purpose of photography and differs from the actual one in respect of size and details. In the case of the actual CG, the viewer will be of the twin lens type.