The Concept of Bio Lung
"Bio Lung" is the word combined two words - 'Bio' which means life and 'Lung' which is necessary for us to live. Right in front of Expo Plaza will rise Bio Lung, a vertical wall filled with flowers and plants. With a height ranging from 4.5 to 15 meters, a length of 150 meters, and 3,500 m2 area, it will be dramatically highlighted by mist and light at the night show. More than 200 kind plants and flowers are planted in this great wall and the total amount will be more than 200 thousands pots. It must be the biggest green wall in the world.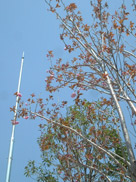 Bio Lung was made for the purpose of improving the environment of busy city areas where enormous amount of CO2 is emitted which causes the serious problem such as global warming phenomenon or heat island phenomenon. Because we have developed our land without thinking to keep nature, now we face quite a lot of natural disasters caused by the global rising temperature – the result of the lack of consideration to our planet. Now we have to think how we can solve this problem and get returned the balanced environment which was used to be here in our land years ago.
Nowadays, there are hardly any flat areas left to grow plants. Bio Lung was born to give an idea to introduce plants in the areas with densely packed buildings where there is few nature any more. Because the soil base is set vertically and plants are planted in there, we could make the most of the area of buildings and build 'independent greenery wall structures' such as soundproof walls along highways or fencing around schools, into organic urban devices. As the result of that, it must be sure that there will be certain drop in temperature which will be one of the contributions to ease the environmental problems which we have to find a solution.
Bio Lung Construction System
The Bio Lung construction system is built on re-usable steel-reinforced base structures. Different types of 1350mm multi-purpose green panel modules can be attached to these 1500mm grid base structures. This type of independent building structure is designed to be able to function in any kind of urban environment, and incorporates a 'backyard' area, which can be used for maintenance. The Bio Lung Tower at the centre is 25 meters high and is the landmark of the EXPO 2005 Aichi, symbolizing the wisdom of nature and the meaning of the Japanese characters (愛ai) Love and (地球chikyuu)Earth.
Bio Lung Designs for Greening
The greenery design for the Bio Lung Screen links the many natural features of Japan, from gardens to rural villages and into the mountains. While the screen introduces as many Japanese varieties of plants as possible, the Bio Lung Tower re-creates the 'grove of the village shrine'. The exhibit has been planned to create an overall design which presents visitors with a feeling for the 'beautiful landscapes of Japan which co-exist with the natural world'. The Bio Lung uses 200,000 individual plants and 200 different species. Flowers can be enjoyed in each season with their attractive colours and features.
Mist Fountains and Lightning Systems
Bio Lung has introduced a variety of technical innovations, which can be used to build more attractive urban landscapes, while at the same time relieving pressure on the environment. Some examples of these technical innovations are automated sprinkler systems, water activation systems and mist fountains, all using recycled water, which we can expect to see used as temperature reduction systems, and in addition LED lighting systems, which use less energy and are not harmful to plants. During the Expo, the 'Bio Lung Symphony' display incorporating mist and LED's working together will be shown.
Experiment at Bio Lung
In Bio Lung, we have set various kinds of measurement equipments, such as thermometers and hygrometer. Constantly gathered data is shown on the screen which is set at the Bio Lung pavilion next to Bio Lung wall. After Expo closes, all the data will be considered at the committee meeting and use it for the promotion of green wall in many cities and places.
Message from Bio Lung
Not only the power of plants itself, but we expect the healing effect to people. Those who are surrounded by nature will naturally have interest in the environment where they live and may start saving energy for their lives. This part is the other, or maybe, more important aspect that Bio Lung project would like to appeal to public at large in the world.