Contents displayed by large-screen EXPO Vision
(1) Symbol contents "Merry EXPO"
For a more emphatic expression of the message contained in "The world is one," the concept of EXPO Plaza, EXPO Vision will display "Merry EXPO" as the symbol contents of the Plaza. "Merry EXPO" rests on collaboration with Merry Project, an art movement that arose in the wake of the Great Hanshin-Awaji Earthquake.
Conceived in the belief that a smiling face is the ideal form of communication across national borders, "Merry EXPO" is a project for collecting "smiling messages" from faces around the world and displaying them to all. Through it, the Plaza will achieve interactive communication with the rest of the world, and link this to the building of a Plaza-born movement that continues even after EXPO 2005 is over.
Organized through collaboration between the EXPO 2005 Association and the official partners, "Merry EXPO" will consist of the following contents.
a)"Merry from World"
In this project, Mr. Koji Mizutani, the artist leading the Merry Project, will personally travel to over 20 countries on the five continents in order to photograph "smiling messages." He has already photographed some 3,897 people in ten countries, and is assembling a mass of "smiling messages." During EXPO 2005, these "smiling messages" will be displayed by EXPO Vision (in approximately ten-minute spots, six times per day).
Photographs taken overseas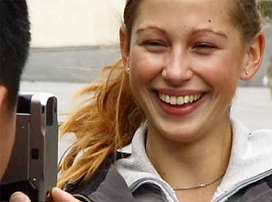 Paris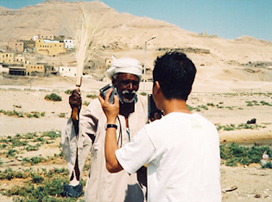 Luxor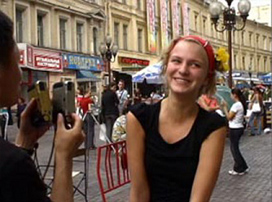 Moscow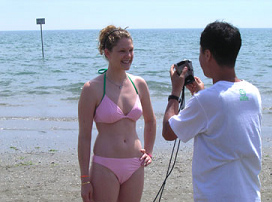 Venice


Images displayed
b)"Merry from You, and to the world"
Under this project, EXPO 2005 visitors can have their own "smiling messages" that were photographed with the cameras in their mobile telephones displayed on EXPO Vision. To do so, they will merely take photographs of themselves, their family, friends, or lovers and send them to the designated address along with a short message. EXPO Vision will display the photographs and messages during the "Merry from You, and to the world" spot about once every two hours. (These spots will last about 7 minutes each and six times per day. Each will take up photographs and messages from 100 people.)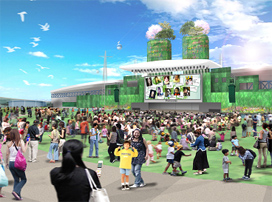 Display image
Furthermore, data for these photographs and messages will be saved at a website launched especially for this purpose. This will enable the visitors to view and enjoy their photographs and messages even after they go home (for all participants). "Merry from You, and to the world" will be executed with the cooperation of NTT DoCoMo, Inc. and NTT DoCoMo Tokai, Inc.
c) "My paper from merry"
Visitors can receive a copy of their own original newspaper bearing their "Merry from You, and to the world" photographs and messages shown on EXPO Vision. Printed on special paper by Asahi Shimbun, the newspapers will be distributed free of charge at Expo Plaza My Paper Station.
To have the newspaper printed, visitors will simply input the access key sent to their mobile telephone after they send their message. Upon input, the Station will confirm their identity and then print the newspaper with their photograph and message on the spot.
d) Other Merry contents
Besides those described above, various other contents are being planned under the "Merry EXPO" symbol contents.
(2) Theme contents prepared by official partners
The official partners are cooperating in the preparation of theme contents to express the EXPO Plaza concept, and have determined the substance of these contents, as follows.
a) "The Animals' Promise" (prepared with the cooperation of Matsushita Electric Industrial Co., Ltd.; about 18 minutes per show, two shows per day)
This will be a musical fantasy of full-screen entertainment highlighting the preciousness of nature. The animals of the forest go into action in order to protect the global environment that provides their habitat. The high-definition images flashed on the super-wide screen will tell a story to delight both children and adults (see Document 1).
b) KIK WITNESS NEWS (prepared with the cooperation of Matsushita Electric Industrial Co., Ltd.; about 12 minutes per show, two shows per day)
KID WITNESS NEWS (KWN) will present video messages from children as the leaders of the future. Through KWN, Matsushita Electric Industrial is supporting the preparation of messages from the vivid new perspectives of children, in a global program of assistance for primary and middle schools.
For EXPO 2005, Matsushita Electric Industrial is also sponsoring a special contest for works revolving around the themes of the environment and interchange. The winning entries from countries around the world will be shown on EXPO Vision (see Document 1).
c) EXPO Plaza Quiz (prepared with the cooperation of NTT DoCoMo, Inc. and NTT DoCoMo Tokai, Inc.; about 15 minutes per show, two shows per day)
EXPO Plaza Quiz will challenge visitors to unscramble scrambled strings of letters. The scrambled letters will be flashed on EXPO Vision, and replies will be sent by mobile telephone. Winners will be given prizes on a first-come, first-serve basis.
The holding of a quiz that can be played by anyone in EXPO Plaza with a mobile telephone will allow visitors to experience the joys of communication with others and IT.
d) "Winds Blowing over the World" (prepared with the cooperation of Media Asahi, i.e., Asahi Shimbun, TV Asahi Corporation, Asahi Broadcasting Corporation, and Nagoya Broadcasting Network; about 15 minutes per show, four shows per day)
The Story of Children and Lands of the World
Children living in various lands around the world will portray the "winds" (nature and life style) blowing over them. Children growing up with nature's help in Asia, the Americas, Europe, and Africa will send messages about their life and dreams for display on EXPO Vision at EXPO Plaza. The "Story" is nothing less than "Nature's Wisdom" in an age of human togetherness, to be passed on from parent to child long into the future.
Stunning pictures of scenic vistas that could even be likened to "earth's memory" will be shown along with the tales of children and their lands in beautiful high-definition images.
EXPO messages from international celebrities
Gems of messages will be collected from international celebrities about a bright future for all humankind. (The celebrities in question include Ms. Ayumi Hamasaki, Mr. Ken Watanabe, and Ms. Zhang Ziyi.)
(3) Various planning contents
To convey the EXPO Plaza concept of "The world is one" more directly to the visitors, EXPO Vision will show highly artistic works by Japan's young video creators as planning contents.
These planning contents will be prepared by young artists active on university campuses and other venues in Japan. They will include works that are video manifestations of the worldwide mood as sampled through the Internet, and interactive offerings that transform the movements of visitors captured by a camera set up on the stage into digitally processed images for display on EXPO Vision.
Among the planning contents will also be lyrical creations presenting all the natural beauty of Japan in high-definition images, and timecasts aired on the hour.