Official Participant Interview : 2.Uganda
For many countries, Expo 2005 Aichi, Japan will not only be an opportunity to show their culture and lifestyle but also to learn from other nations and share ideas within the global community.
Uganda is one country looking forward to participating in the Expo with that in mind. "We not only plan to show the cultural diversity of Uganda, but we come to learn also, with our eyes and ears wide open," says James B. Baba, ambassador of the Republic of Uganda to Japan. "It's going to be a big learning experience, sharing ideas and seeing how people live elsewhere in the world with the resources nature has given them."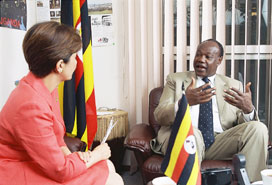 James B. Baba
Ambassador to Japan
The Embassy of the Republic of Uganda
Uganda's exhibit will focus on how the African country markets its resources and lives in harmony with nature. In the past, expos usually served as a means to export to international markets, but this time "we are keen to let the world know what products, services and natural resources we have in Uganda," says the 58-year-old Baba.

Japanese-Ugandan ties go back to the early 1960s. Uganda had an embassy in Tokyo in 1973 but it was twice closed. It was permanently reopened in 1984. Before coming to Tokyo in October 2001, Baba served in Congo, Denmark, Ghana and China as well as a stint as deputy permanent representative to the United Nations in New York where he focused on poverty eradication, HIV/AIDS and sustainable development.

While Japanese products are popular in Uganda, Japanese people still don't know a lot about Ugandan culture or society, something that Baba hopes the expo will rectify.
For example, Uganda has consisted of four kingdoms for more than 600 years. Nowadays, the kings serve as cultural leaders whose job is to enrich and improve cultural life. "About 80% of Ugandans live in rural areas. Many generations have lived in the same farming communities and are self-sustaining, thus avoiding food shortages," Baba points out.
The Ugandan exhibit will also be aiming to show Japanese the potential for investment and the attractiveness of the country's products to the international market. "The standard of production of our coffee, tea, cut flowers and vanilla is world class. Uganda is one of the world's biggest producers of coffee, much of which goes to Europe and the U.S. As for Japan, one of our biggest exports is Nile perch caught in Lake Victoria," says Baba. Ugandan echo-tourist facilities are world class. Churchill described it in 1808 as the Pearl of Africa.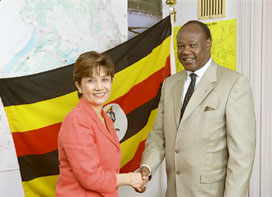 The Ugandan exhibit won't neglect culture, either. Dances, artwork and crafts will be displayed and there will be plenty of Ugandan food to be sampled (Baba recommends visitors try the green bananas steamed and mashed with fish, ground nut or beef stew). Traditional wedding rites may also be demonstrated. "Marriages are very elaborate, colorful and traditional with a meeting of the two sides and usually a gift dowry is presented." says Baba who fondly recalled the five cows he gave as gift dowry to his wife's parents.

Interview:
Mari CHRISTINE
Public Relations Producer
for EXPO2005 Aichi, Japan
"There is so much to display about Uganda. We can't bring it all to Aichi, but I think it will be a useful experience," Baba adds. "And Uganda is much closer to Japan now. Flight time between the two countries has been reduced from 33 hours by going via London, to 18 hours,if one travels through Kansai to Entebbe via Dubai."